Here's How To Listen To Daniel's Full Beat From 'Insecure'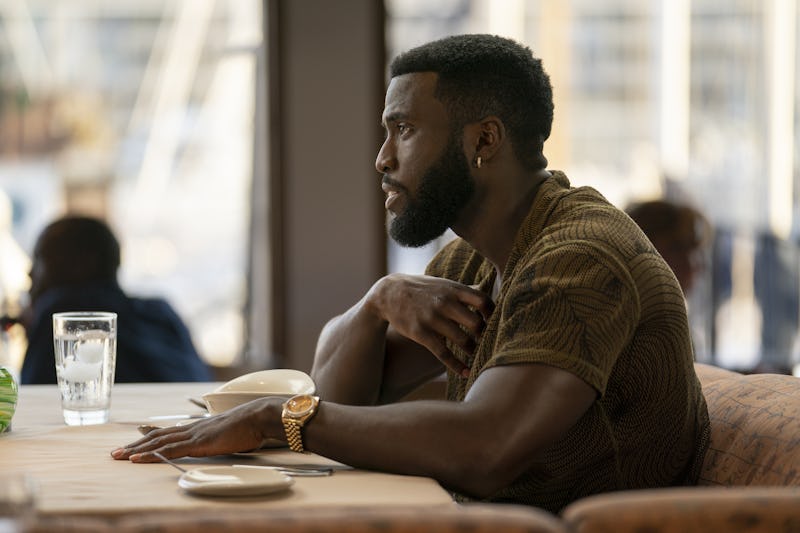 Merie W. Wallace/HBO
With a title like Insecure, it's only natural that the show's characters would struggle with self-confidence. While Issa (Issa Rae) is currently in professional, romantic, and domestic limbo, Daniel (Y'lan Noel) is also trying to get his fledgling production career off the ground. While he was initially introduced in Season 1 as a homewrecker, Daniel's been getting more of a backstory in Season 3. And since audiences have caught snippets of the track he's been working on, it's clear the man has talent. So here's how to listen to Daniel's song on Insecure.
"See that?" Daniel asked his niece in Episode 2 as he played one of his songs. "Smooth. Easy." And although she admitted that it was "sturdy," what his niece really wanted to listen to was "shake that" music. "Your music be making me wanna think," she whined. "It's like, why though?" Fortunately, Issa was a much more enthusiastic fan. At the end of the episode, she heard Daniel's track, which is quiet, lush, and sounds kind of like Future's "Mask Off" (or maybe that's just the flute). And while Issa didn't say anything, she went over, sat with him, and smiled approvingly.
So while Daniel has the talent, he's not good at networking (and who is, TBH). So, when he tried to introduce himself to the rapper Spyder at Fais Do-Do in Episode 2, he was quickly dismissed. That is, until his old friend, Khalil, stepped in. Khalil had become a successful music producer, and Daniel resented his success in that way that only old friends can with each other. "If I got shot, what would the news story even say?" he lamented later on to Issa. "Unknown SoundCloud producer, dead." However, Issa finally convinced him to swallow his pride and give Khalil a call. You know what that is? Growth.
Audiences see more of this storyline in Episode 3, when Khalil advises Daniel to take the strings out of his track. As fans already know from his niece's response, it's a thinking song, not a booty-shaking one. However, the music producer decides to ignore Khalil's advice and keeps the orchestral element when he debuts the song for Spyder. It's a great move for Daniel, because the rapper likes it, but Khalil's pissed. And while this may complicate things for the producers further down the road, that remains to be seen.
So who really wrote this track with "Nordic influences" that Daniel's been agonizing over? It's called "Easy," featuring singers Anna Wise and Xavier Omär. It was produced by Raphael Saadiq, who per the New Yorker, not only does the score for Insecure, but the producer has collaborated with legends like Solange Knowles, Erykah Badu, and D'Angelo. "You just have to show up and be there with an open mind to make music," the producer told Pitchfork in 2017. "The biggest reward in making Solange's album [A Seat at the Table] was watching girls and young women have an anthem — and then see the guys come and join in. That was huge. I feel like people are still coming to join in every day."
Wise has been collaborating with Kendrick Lamar since good kid, m.A.A.d city, per Complex. What's more, she even wrote a track — "Pride" — for Lamar's latest album, DAMN. "I felt really proud of [Kendrick] for sounding so beautiful [on "Pride"] and felt really proud of myself for writing something that was worthy of being on his record," she told Complex of hearing the finished product. What's more, Wise has three of her own albums — The Feminine: Act I, The Feminine: Act II, and geovariance — which are all available on Spotify.
Omär is a bit more under-the-radar, but he has two albums on Spotify — Hours Spent Loving You and The Everlasting Wave. His voice is beautifully lush and sounds similar to Sampha, James Blake, or Frank Ocean. What's more, per his website, the R&B singer is about to go on tour.
As for where to find "Easy," fans can listen to Insecure's Season 3 soundtrack on Spotify, with more songs added each week. Or they can just listen to the song on YouTube. Either way, audiences should hope that Daniel keeps those strings in, because "Easy" sounds perfect just as it is.