11 Ridiculously Easy Hacks To Lower Your Electric Bill During The Summer & Still Stay Cool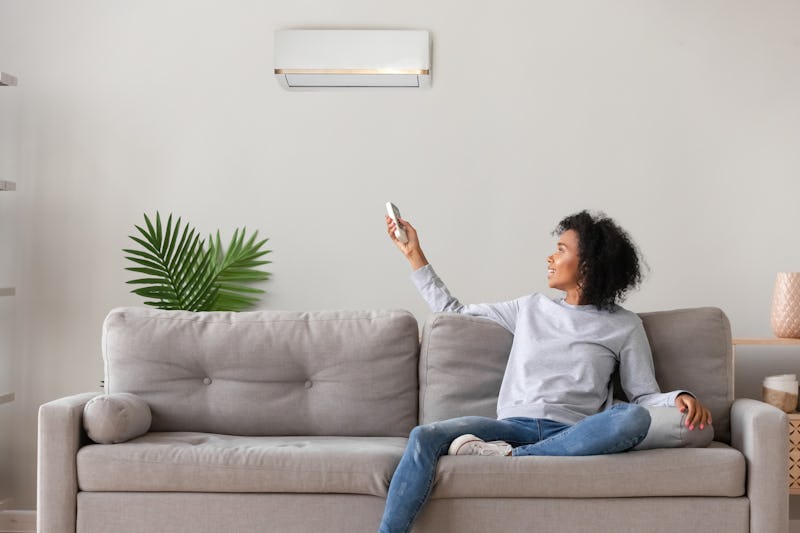 Shutterstock
Summertime, and the living's easy — unless you're roasting hot inside your home, in which case the living is a little bit less easy. It's the only real drawback to the summer months, especially when it feels like a constant battle to keep your spot cool without blowing your whole paycheck on utilities. If you're wondering how to lower your electric bill in the summer, you'll probably be happy to know that there are plenty of easy hacks to save you the big bucks, according to energy efficiency experts.
An EPA spokesperson pointed out that the average household spends $2,000 a year on energy bills. "Almost half of the average household energy bill goes to heating/cooling," they write in an email to Bustle. "That's more than $900 a year." And given that this summer has been one of the hottest summers on record, it's safe to say that energy bills across America aren't exactly plummeting.
Thankfully, according to David Gomez, the CEO and Founder of Clean Energy Solutions, an energy consulting firm that specializes in finding solutions for energy efficiency and renewable energy, there are several steps you can take to lower your energy bill this summer. "The majority of things you can do to make your property energy efficient does come with homeownership, more or less," Gomez explains to Bustle. Regardless, he notes that it's still totally possible to cut your energy bill if you currently rent.
But if you do own your home, the biggest thing you can do is go solar. "Obviously, solar is a huge thing in terms of reducing your bill," Gomez says. And for those who are worried about the expense and effort of purchasing and then installing solar panels, there's good news: there are a number of affordable ways to go solar.
Of course, solar might not be an option for everyone, at least not yet. And besides, there are plenty of other small hacks to know, regardless of whether you're in your forever home or subletting for the summer. Here are some quick ways to lower your energy bill for the rest of the summer: