How To Make Any Lipstick Matte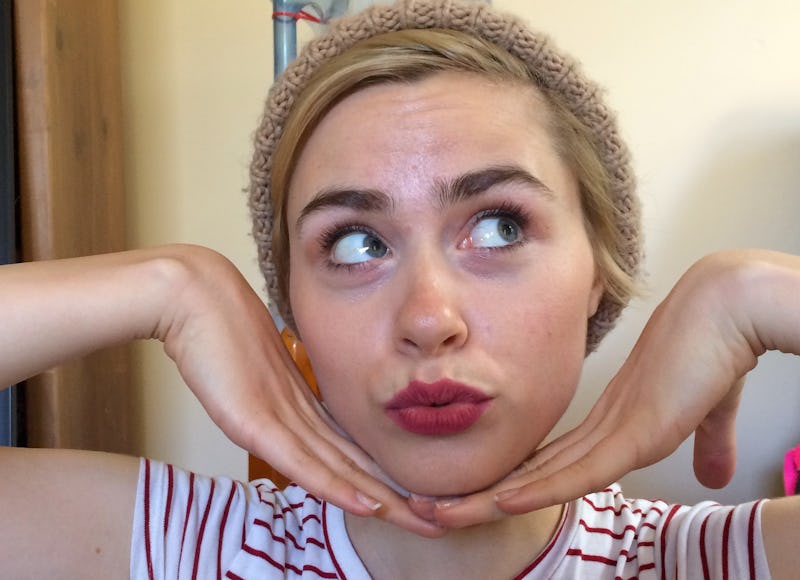 Can't get your hands on any of Kylie Jenner's latest matte releases? Worry not! I'm breaking down how to make any lipstick matte and it's easier than you think. And to any of my DIY-adverse friends out there, I 100% promise you're totally capable of this.
I've been swooning over matte lip colors since forever (errrr OK, at least since NYFW when the runways were full of them!), and love how they can transform a bare face into a dramatic and pulled-together look. The only problem? Most matte lipsticks I've encountered are either A) Chalkier than what's scribbled on sidewalk or B) Three sad words: Out-of-stock.
Fortunately, this simple mattifying hack turns your lips into a velvety-soft dream instead of a chalky tragedy every single time. Ready to try it?
All you'll need is your favorite lipliner, (non-matte) lipstick, and translucent powder. This trick takes all of two minutes to do and, once you get the hang of it, you might never purchase matte lipsticks again. Just follow the instructions below and prepare to find yourself in matte lippie heaven!
You'll Need:
Lip Liner and Blending Brush, $3, E.l.f. Cosmetics
Lip liner is definitely my secret weapon for making sure my lipstick doesn't bleed out.
Lip Kiss Balm, $2, E .l.f. Cosmetics
Feel free to use any lipstick you like!
High Definition Powder in Sheer, $6, E.l.f. Cosmetics
You're going to end up using this for way more than just matte lips.
Now here's how to do it:
1. Start With Clean Lips
Make sure your lips are exfoliated and good to go.
2. Pop On Liner
Not required, but again, I find it helpful for applying my lipstick.
3. Swipe On Lipstick
I'm using e.l.f. Cosmetics Lip Kiss Balm in Berry Sweet. I love the pink undertones in this red!
Want more fashion and beauty tips? Check out the video below and subscribe to Bustle on YouTube!
4. Dab On Translucent Powder
Here's where the magic happens. Take any translucent compact powder (I used e.l.f. Cosmetics High Definition Powder) and lightly tap over lips. Smack your lips together to smooth everything out and ...
5. Smile
That's it!
Do beauty hacks even get any simpler?
Eat your heart out, Kylie Lip Kit!
Images: Author's Own, Courtesy of Brand