The 'Tattoo Girls' Shop Is Open For Business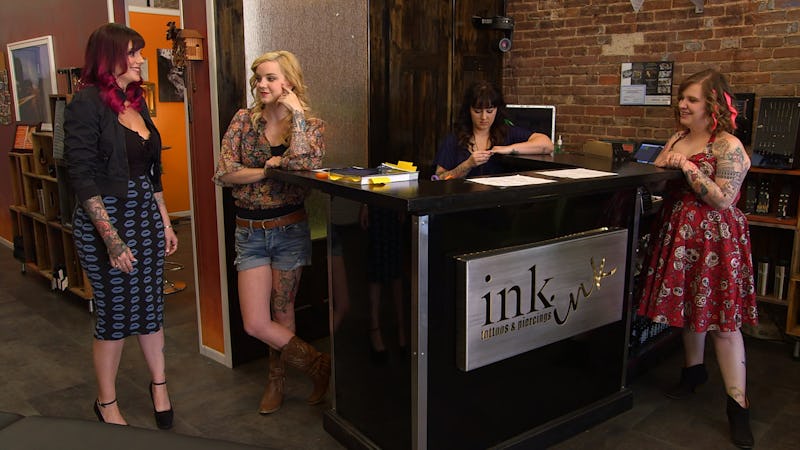 TLC
There have been many tattoo-related reality TV series in the past, everything from L.A. Ink to Ink Master to Tattoo Nightmares. However, there's never been a show quite like Tattoo Girls. The new TLC series premiering Tuesday, Jan. 24 at 10 p.m. ET follows the operations of Ink Ink, the only all-female tattoo shop in the midwest, according to owner and tattoo artist Kelsey Rogers. So perhaps that's why "people come from everywhere" to get a tattoo at Ink Ink, Kelsey says in the trailer for the new series. So if after watching this show you feel like traveling to Missouri for your next tat, you might want to know how to get an appointment at the Tattoo Girls shop.
Well, it's quite simple, really. All you have to do is head on over to Ink Ink's website and fill out an online form to get in touch with the crew. The form asks for your name, email address, whether you want a tattoo or a piercing, if you'd like it done at the shop's Springfield or Branson location, and a message where you can fill in the details about what you'd like to get done. The website also lists a phone number and email address for Ink Ink that you can also use to get in touch with the shop.
An appointment includes some consultation time in which the tattoo artist will draw up your design, according to the FAQs section of Ink Ink's website. Tattoos start at a minimum of $60, and most people spend approximately $80 to $120 on individual pieces, the shop's website says. You can get everything from a brand-new tat to a touch-up to the completion of another artist's work at Ink Ink.
It's unclear if you can get a tattoo done by every gal who's part of the Tattoo Girls cast. Of the Tattoo Girls cast, only Kelsey, Nikki, and Brittany, who is a piercer, are listed as part of the Ink Ink team on the shop's website as of the time of this writing. It's also not specified how you book an appointment with a particular tattoo artist, but I'm guessing it couldn't hurt to make note of who you'd like to get tatted up by in your message to Ink ink. You can take a gander at all of the artists' portfolios on the shop's website to help you get an idea of who you'd like to do your ink.
If you're more in the mood for a piercing, Ink Ink does that, too. What's great about getting piercings at Ink Ink is that no appointments are necessary for piercings since they're on a walk-in basis, according to the FAQs section of the shop's website. The site lists Brittany, Kristen, and Hayley as Ink Ink's piercers. You can check out some of the work they've done in the past on the site. If one of them strikes your fancy, you can call up the shop to see when that piercer is available and show up at Ink Ink at that time to ensure that they give you your new hardware.
But if you just want to make people think you've been to Ink Ink IRL, you can always pick up some of the shop's merch online. Everything from coffee mugs to T-shirts to beanies is just a click away in Ink Ink's online store.
However, many Ink Ink customers claim that much of the reason for going to this shop as opposed to any other in the country is because of the fun interactions of the team members, Kelsey says in the promo for the new series. After watching Tattoo Girls, you might want to head on over to Ink Ink just to hang out with these ladies, whether or not you're in the market for a tat or a piercing.