The Fall Clothes To Buy This Year Based On Your Favorite Trends Last Year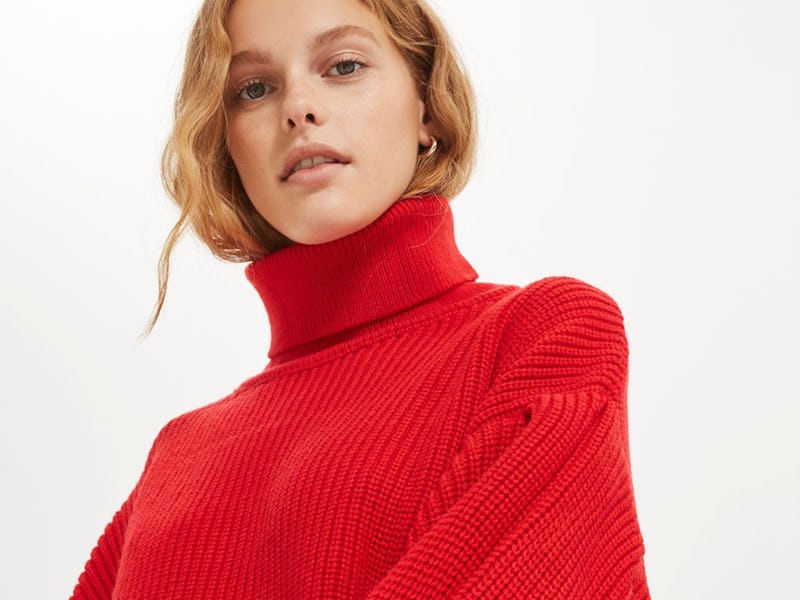 Courtesy Topshop
Bustle and Coveteur are working together to bring you the best mix of the season's fashion and beauty releases, shopping tips, and service stories in ways that are both inspirational, and attainable. Check The Fall Style Edit channel weekly to see what we're up to.
The bad news? Summer is *unofficially* over, and cooler weather's already starting to roll in. The good news? Fall clothes. Thankfully, a bunch of pieces we loved last year — aka cropped jeans, sock boots, and tons and tons of ruffles — are all still in style, meaning you won't need to empty your bank account doing a major closet overhaul. If you are, however, hoping for a quick upgrade (and want some pretty new things to show off), we've got eight swaps that will do just that, complementing last year's look and turning it "2017."
If you were into ruffled sleeves….
Try puffy sleeves. It's the same statement-making concept, but with a Victorian-inspired upgrade.
Balloon Sleeve Roll Neck Jumper, $75, Topshop
Lemaire Knitted Turtleneck Sweater, $540, Net A Porter
Wanda Nylon Striped Cotton-Poplin Funnelneck Top, $565, Net A Porter
If you lived in your mules…
Try slingbacks. This classic shoe style is a tad more feminine than those casual slides, but the big bonus here? They won't slip off!
Manolo Blahnik Carolyneflat Suede Slingback Flats, $645, Barney's
Aquazzura Nairobi Embellished Denim Point-Toe Flats, $725, Net A Porter
Gucci Marmont Fringed Suede Slingback Flats, $695, Net A Porter
If you loved layering turtlenecks…
Try a sheer alternative. Styled under a dress, jumpsuit, or even a sweater, a see-through turtleneck or top is more "nice touch" than "naked."
Simone Rocha Turtleneck Sheer Top, $420, Farfetch
Zoe Karssen Turtleneck Pullover With Cotton, $179, Stylebop
Ganni Tilden Leopard-Print Mesh Turtleneck Top, $115, Net A Porter
If you wore your bomber to death…
Try a polished blazer. While our bombers will still be on rotation, top models have shown us that blazers — especially plaid ones! — are an equally versatile top layer.
Acne Studios Jara Double Breasted Pinstriped Wool Twill Blazer, $900, Net A Porter
Regent Blazer In Plaid With Velvet Tie, $228, J.Crew
If you stocked up on cropped denim…
Try cropped trousers. Whether they're baggy culottes or a slimmer suit-like style, they'll be worn as often trustiest pairs of jeans (pair them sock boots and a T-shirt)!
Acne Studios Iris Cropped Wool-Twill Wide-Legged Pants, $350, Net A Porter
Antonio Berardi Cropped Cady Flared Pants, $590, Net A Porter
Cropped Trousers With Seam Detail, $50, Zara
If you were way into millennial pink…
Try power red. The runways proved this color's back in a big way, and if wearing it head to toe feels bit too flashy, incorporate it into your wardrobe with dresses, shoes, and jackets.
Tory Sport Chevron Stretch-Jersey Top, $160, Net A Porter
La Linge Pipeline Striped Crepe Flared Pants, $325, Net A Porter
Dorateymur Nizip Booties, $550, Shopbop
If your winter coat was a poufy puffer…
Try something fluffy. Just as big, warm, and spotlight-stealing as last year's outerwear, only a little more glam.
Frame Faux Fur Coat, $695, Net A Porter
Bluebird Jacket, $339, Unreal Fur
Maison Margiela Oversized Mohair Coat, $2,750, Net A Porter
If you were a track pants kind of gal…
Try a full track or sweat suit. Matchy-matchy sets have made their return (and so has the "groutfit," aka gray outfit), plus, when you're not styling the pieces together, you can wear them separately and double your wardrobe.
Opening Ceremony Ribbed Knit-Trimmed Cotton Hooded Top, $175, Net A Porter | Opening Ceremony Ribbed Knit-Trimmed Cotton Track Pants, $150, Net A Porter
Bella Freud Billie Cashmere-Blend Cardigan, $665, Net A Porter | Billie Freud Billie Intarsia Metallic-Trimmed Cashmere-Blend Track Pants, $585, Net A Porter
Super Soft Loungewear Sweatshirt, $45, Topshop | Super Soft Loungewear Joggers, $50, Topshop