Everything You Need To Know About Growing Longer, Stronger Nails — & The Products You'll Need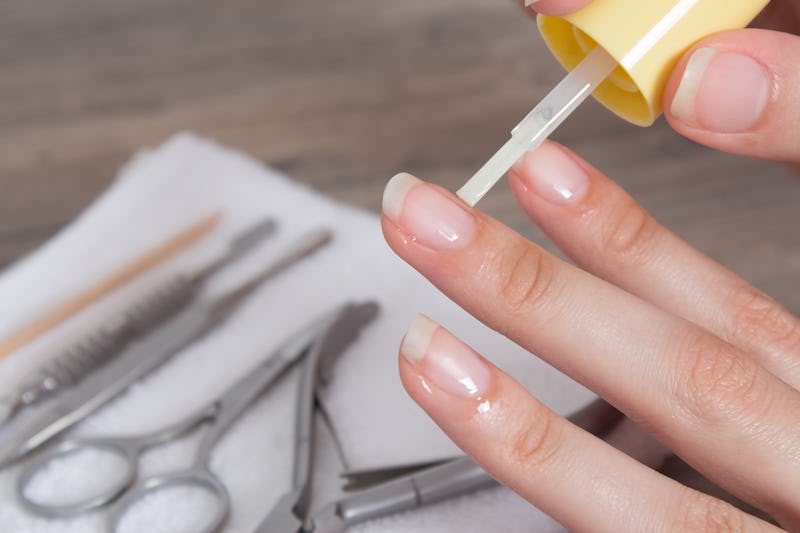 Shutterstock
Whether you're trying to undo the damage from a manicure habit or you're the type whose short finger nails never seem to get to your preferred length no matter how much — or how little — you try to do to them, you'll be happy to know there is hope for achieving healthy, strong nails. If you're wondering how to make your nails grow faster, there are a few key things you can do at home to expedite the process.
Unfortunately, there are some factors (like genetics) which impact your nail health that you have no control over, Dr. Dana Stern, a New York City-based board certified dermatologist who specializes in nail care, tells Bustle. "As we age and our nail growth rates slow, and as our nails are exposed to considerably more environmental influences, this can affect the overall appearance and strength of our nails," she explains.
In terms of what you can do to help strengthen your nails, Stern advises avoiding harsh manicures, particularly gel-based ones as they tend to require rigid prep and removal processes. "We know that the nail plate becomes thinner from soak-off gels," she notes, "as it will involve overly aggressive buffing, filing, or roughing up the surface of the nails."
Beyond the salon, you should be cognizant of the nail products you're using at home, too. In terms of nail files, glass ones are smoother and gentler on the surface than emory boards. Opting for nontoxic polishes and removers will also do wonders for your nail health since chemical ingredients (like acetone and formaldehyde) may cause damage by dehydrating your nail beds. Finally, there are a number of lotions and cuticle oils on the market that can pamper weak nails, and there are also collagen supplements that can address concerns from the inside out.
Below, you'll find recommendations for how to make your nails grow faster most of which are based on clinical evidence from Stern and/or scientific studies so you can finally give your nails the care they need to thrive.
We only recommend products we love and that we think you will, too. We may receive a portion of sales from products purchased from this article, which was written by our Commerce team.