How To Deal With The Holidays When You Have Depression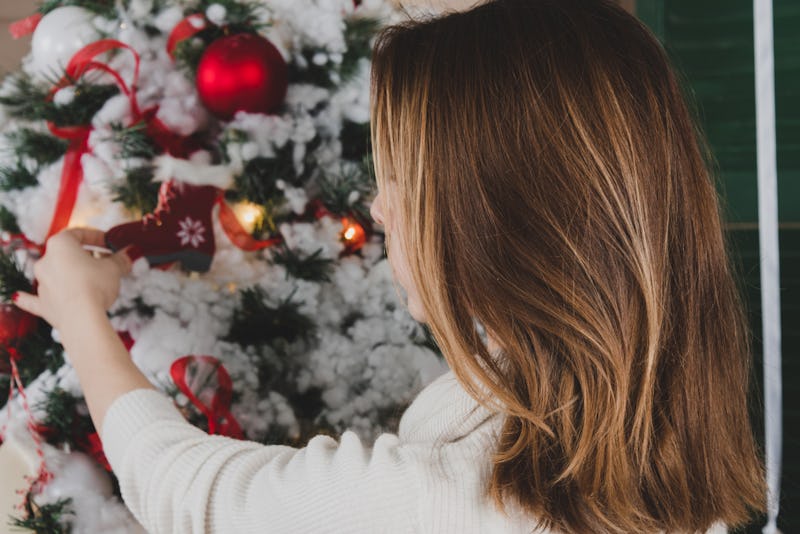 Nastya Arsentyeva/Fotolia
When you're surrounded by all sorts of holiday cheer, it seems like everyone would be full of positive energy, right? Well, not exactly. The reality is that the holiday season can be a difficult time for people who live with mental illness. There are so many pressures and expectations that come with the holidays that can worsen a person's symptoms of depression and anxiety, not to mention the disruptions to your regular mental health maintenance caused by traveling, parties, or other interruptions. Even though things might seems overwhelming right now, there are many ways to manage the holidays if you have depression.
While the holidays can be a super happy time for some people, this time of year can worsen symptoms of depression in others for a lot of different reasons, says Shainna Ali, licensed mental health counselor and owner of Integrated Counseling Solutions."[You may feel] relationship-pressure to be with someone if you're single, you might have to see family members that you may not share the same values or beliefs [with], or you may have toxic people in your family," says Ali. "Or money management, especially for millennials, pressure to be on-trend and provide gifts that show someone their worth." Any of these factors, Ali tells Bustle, can contribute to worsening symptoms of depression during the holidays.
The National Alliance on Mental Health (NAMI) says a packed social calendar, high expectations for giving the perfect gift and planning the perfect holiday events, and loneliness for loved ones you can't be with can also heighten depression during the holidays. Once you really take a step back and look at everything that can pile on top of you during the holidays, it makes sense if your depression has gotten a little worse over the last few weeks.
Dr. Sherry Benton, psychologist and founder of Tao Connect, tells Bustle that feeling connected to others however you can is really important to manage your symptoms. "Try to spend a small amount of time with someone, even if it's a quick Facetime session," says Dr. Benton. If being around family makes you feel alone, says Dr. Benton, try volunteering somewhere to see if you can make that connection outside of your home. Dr. Benton also recommends finding small activities that bring you joy, such as driving around looking at holiday lights, cooking or baking something that you can share with friends or neighbors, watching old holidays movies, or sending thoughtful notes to people you care about who are no longer with you.
NAMI recommends setting realistic expectations for yourself, whether for what you had hoped to accomplish over the last year, what kind of gifts you hope to give, or how many parties you hope to attend. Give yourself the space to be proud of what you've achieved, even if you didn't reach a specific number you'd set. And if you live in a part of the country that's getting less sun this time of year, NAMI says try to walk outside to grab a little sun when you can. And do your best to take care of yourself, says PBS, by eating regular meals, staying hydrated, and keeping up with your normal mental health maintenance routine, whether that's taking medication, regular visits to a therapist, or other strategies. PBS also recommends setting firm boundaries if social invitations or financial demands are getting too overwhelming. It's perfectly OK to know your limits, says PBS, and to decline some social events and set a spending threshold.
The holidays should be a wonderful time for everyone, With a solid toolkit in place, it's possible to manage the holidays and mental illness at the same time.
If you or someone you know is experiencing suicidal thoughts, call the National Suicide Prevention Hotline at 1-800-273-8255 or text HOME to the Crisis Text Line at 741741. You can also reach out to the Trans Lifeline at 877-565-8860 or the Trevor Lifeline at 1-866-488-7386, or to your local suicide crisis center.