7 Tips For Not Drinking At A Wedding, According To Women Who Don't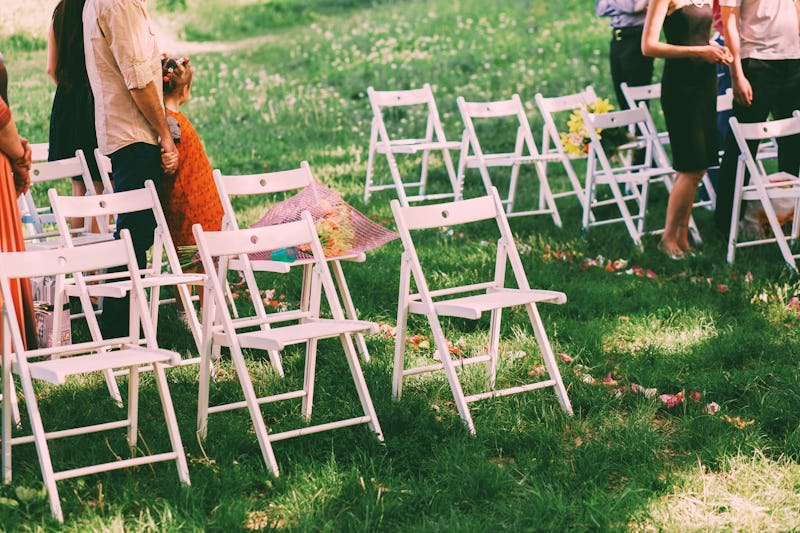 Shutterstock
Weddings can be beautiful, joyful events — but if you're sober, or avoiding alcohol for a period of time, they can also be challenging. A survey of 1,000 people by the American Addiction Resources Center at Alcohol.org found that 53% preferred weddings with alcohol to dry weddings, which means that there's a lot of social pressure for receptions to have free-flowing booze. If you don't drink, it may be a struggle to have a good time and enjoy the vibe of a wedding while everybody else is enjoying champagne with their cake — but if you plan ahead, sober people tell Bustle, you can get through it without hassle.
Being at weddings can be particularly challenging for people who have gone sober as part of their recovery from alcohol use disorder, "but it's important to remember you're never alone," Dr. Stephen Loyd, the National Medical Director at drug and alcohol treatment center JourneyPure, tells Bustle. People who are sober for other reasons, including health, may also find weddings and other alcohol-heavy events challenging, and may find it difficult to resist the temptation to have just one drink. Dr. Loyd suggests developing a plan, including identifying triggers that might persuade you to drink, and having an exit plan and some coping strategies to help avoid those triggers if they come up.
Seven people who are sober share their own tips and tricks with Bustle on how they handle weddings — and have a great time.