It's Not Too Late To Participate In A Day Of Service On MLK Day — Here's How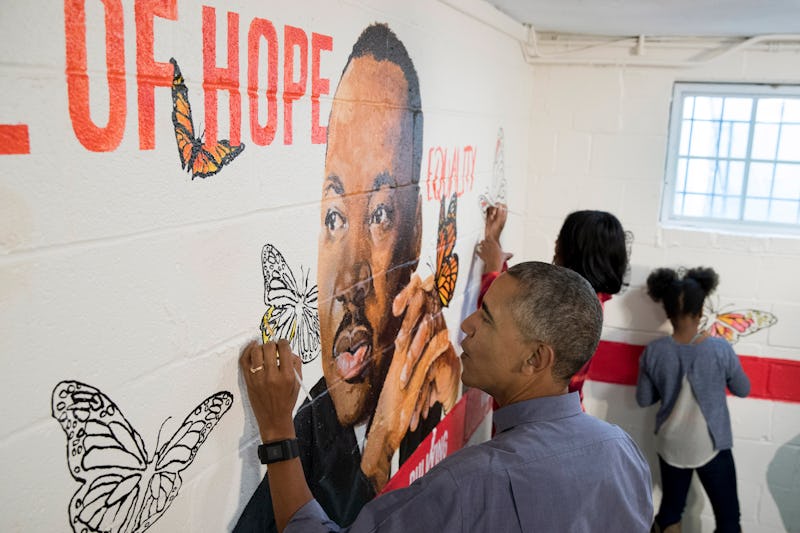 Pool/Getty Images News/Getty Images
People all across the country will observe Martin Luther King Jr. Day this Jan. 15 in various ways. One popular way to commemorate King's life and work is by participating in a day of service and reflecting on the message he spread throughout his life. If your job doesn't normally participate in a day of service for MLK Day, there's still time to organize a volunteering activity that can serve as a template for future days of service.
Since 1983, when MLK Day was first celebrated, the holiday has become synonymous with community service. Many began referring to it as "a day on, not a day off," in 1994 when Congress designated it as a national day of service. "MLK Day brings a lot of buzz to the volunteer world. Everyone is thinking about service and how they can make a positive impact on their community," Stephanie Monahon, Philadelphia's chief service officer, told Generocity.
If you want to participate in a day of service, but don't have the resources in place to set one up at your work, you can find already-existing programs by searching online directories or asking around in your community — your neighborhood Facebook group might be a good place to start. It might be cutting it close to organize a company-wide day of service this year, but you can start small with just your team. It can be as simple as sending around an email saying, "Hey, I'm volunteering on Monday since we have the day off and would love to carpool with anyone else who's interested."
If you want to organize a formal day of service at your work, first, it's important to know your company's policy on volunteering. Some organizations have strict parameters around what type of volunteering their employees can participate in as representatives of the company. Some companies have a set list of approved volunteers sites; you'll find that other companies don't have a formal employee volunteer policy. Either way, knowing your company's volunteer policy is the best first step.
Once you have established that you can move forward and have assembled a planning team, you and your coworkers need to set goals. It's important to envision what you want to accomplish during your day of service. To establish some goals, ask yourself questions like, "What societal issue do you most want to tackle?" and "What are the strong suits of the people in your organization, and how can you apply them in a volunteer setting?" This step will help you select project ideas.
Before committing to a project, contact the organization you're interested in working with to make sure they have space for your group on the day you're interested in volunteering. They'll often have a structure in place for people who are interested in volunteering in big groups like this. If the project requires financial assistance, such as money to pay for supplies, request it from your company.
A lot of companies take MLK Day off, but if yours doesn't, you'll want to ask the higher-ups for at least a half day off to volunteer as soon as possible. Explain the time commitment and the potential benefit to the company, and how you plan to get your work done in advance. You can try saying something like this:
"A few of us on the sales team were interested in volunteering at a neighborhood clean up event for MLK Day. A lot of our customers live in this neighborhood, and I think it would be a great way to show them how much we care about them and the environment. The event will take about four hours, and I can take pictures to showcase on social media. Is it okay for us to take four hours off on Jan. 15?" Once you've gotten approval to take a few hours off, you're in the clear.
Make sure to confirm with the organization you'll be volunteering with how many people are coming and what time you'll be arriving — and don't forget to re-confirm with your crew of volunteers, too. It'll be helpful to tell people what time they should expect to show up, what time you expect to end, what to bring, and what to wear.
When you're volunteering, enjoy yourself. You and your coworkers are helping to better your community and participating in a nationwide celebration of a civil rights leader who fought for equality for all. But the planning doesn't end once the volunteering ends. It's important to encourage your coworkers to reflect on their experience. Ask your team for feedback, and use it to help make next year's event an even bigger success. MLK Day 2018 is right around the corner. It's not too late to start planning your own day of service to better your local community.