I Had My Closet Made Over By A Professional Organizer & Turns Out I Was Doing Everything Wrong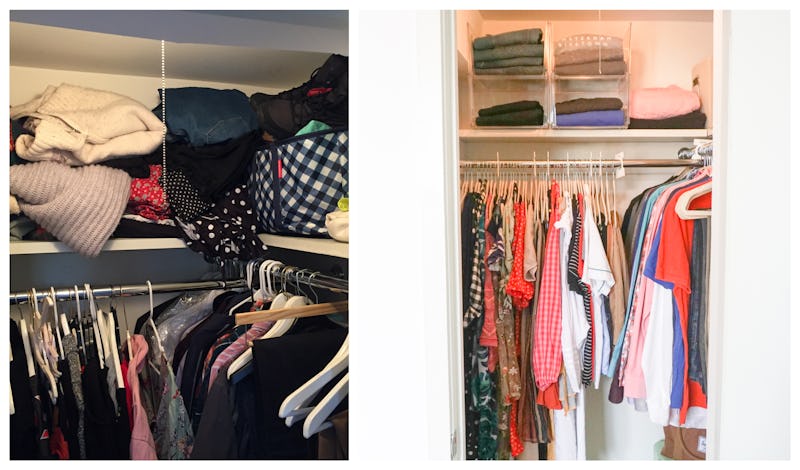 Courtesy Olivia Muenter; Horderly
For most of my life, I could comfortably describe myself as an organized person who just happens to own a lot of things. Now that I share a small New York City apartment with my boyfriend and dog, though, it's probably more accurate to describe myself as an organized person who owns a lot of things, and also has to fit all of those things into one half of a tiny, tiny closet. It's not that I'm not organized. In fact, I love organization and having a place for everything. But when it comes to my mini closet and my many clothes, I recently accepted total defeat. And then I called in a professional.
The main problem with a closet is ironically the same thing that makes it so great: it has a door. Day after day, I would look at my closet in frustration — clothes strewn on the floor, mismatched hangers dotting the rods — and then promptly shut the door. I would deal with it another day, I told myself (and told my boyfriend, who somehow always managed to keep his side of the closet looking OK). And then I would never deal with it. There are always other things to think about. I had tried doing a bi-yearly clean out. I had attempted to Marie Kondo the whole thing. I had taken everything out and put it all back in. But nothing seemed to stick. So when I saw Jamie Hord aka Horderly on Instagram advertising her professional organizing skills and extremely satisfying before-and-after shots of homes and closets, I got in touch.
I clearly couldn't figure out the closet, so maybe she would. At first I thought that the main benefit of having Hord re-organize my closet was that it would force me to really look at everything I own and assess if it was all worth it. But what I didn't expect was to realize that professional organization is about strategy. Sure, throwing a bunch of stuff out, putting what remains back in the closet, and hoping for the best can work, but real organizational strategy requires thought, planning, and investing in tools that truly make your space not only clean, but accessible.
First, Hord had me send photos of my space in all of its messy, messy glory. Then, based on the photos of my space, she sent me exactly what tools I should order from the Container Store to make the space work. Eight clear sweater bins, four wicker baskets, and 250 velvet hangers later, I was in business — well, almost.
Eager to get started and make Hord's life easier, I started by swapping out all the hangers on my side of the closet and getting rid of any and all clothing I wasn't sure that I wanted anymore. This alone made a huge difference. So much of a difference, in fact, that I questioned if I really needed any more help than just that. But as soon as Hord got to work, I realized I was very, very wrong.
Hord started by taking every single thing (literally, every thing) out of my closet and putting it on the bed. We went through each item and decided whether to keep it or not. Despite the fact that I had gone through the same process myself a couple months before, being put on the spot with a real human about clothing made it easier to say no to pieces I was being stubborn about holding onto.
After that was done, I stepped out of the room while Hord worked her magic. When I came back, everything looked different. Turns out, I've been folding jeans the wrong way pretty much my whole life. And hanger dividers? They are actually extremely helpful. Hord walked me through all of the changes — how the clothing is sorted from light to dark, how bathing suits and cover-ups each had their own individual spots, how it's best to avoid anything touching the floor for optimum organization. Everything had a place, and it was beautiful.
I was lucky enough to have a professional guide me through this process, but not everyone has this opportunity. Hord was nice enough to share with me some of her best tips for making the most out of a any space, but especially a closet.
Courtesy Olivia Muenter; Horderly
"Horderly [Hord's organization company] goes by five steps to organizing a closet (or any space for that matter)," Hord says. "Sort, edit, strategize, implement, perfect."
Sort
Sorting, aka getting everything out of a space and going through it, is the first step that Hord went through with me. This flows easily into the editing process, which is when you look at how much of each item you have and edit accordingly.
Edit
"You might notice you have 10 black T-shirts and have no idea," Hord says, suggesting in such a case that she would encourage someone to keep two of the best ones. "Be ruthless and stay true to your current style."
Ruthless is a good word for the editing process. If you have a million things and a tiny space, no matter how good you are at organization, it's going to be difficult to make it work. Editing my wardrobe down has not only made my space more easily accessible, but it makes me feel better about the clothes I actually own instead of feeling guilty about not wearing something.
Strategize
After the edit comes strategizing. "Give your empty closet a good look and decide what items are going to be best where to make your life super easy and functional," Hord says. "You want to be able to 'shop your own closet,' making getting ready a breeze."
This is the part where Hord takes measurements of the space and decides which tools to use. In my space, this meant hanger dividers, clear plastic shelving units, and a couple bins with name plates. But this will look different in every space.
Implement
According to Hord, the implementation stage of the process is where we get rid of anything "random." In my case, this meant finding a new place to store things like bedding and extra pillows instead of just throwing them in the back of the closet.
Perfect
According to Hord, perfecting is the best part of the whole process, and the step where you should label anything that needs labeled and really make sure everything is as divided up as possible — especially if you share your closet with someone else.
As for maintaining a newly-organized closet that looks beautiful and pristine and, well, perfect? Hord tells me that she definitely knows it can be intimidating, but that there are little tricks to keep maintaining it.
"Once you get organized, it's addicting. After going through the process, it will naturally become more of a lifestyle," Hord says. "Always keep a constant declutter going. If you like to bring in new pieces often, I always tell my clients to use the technique 'one in, one out.'"
As for me, I'm about one month into my newly organized closet and, for the most part, I've kept it pretty much the same as these photos. As for the 'one in, one out' method, well... I'm still working on that one.