Here's How Experts Say You Should Prepare For A Hurricane Like Harvey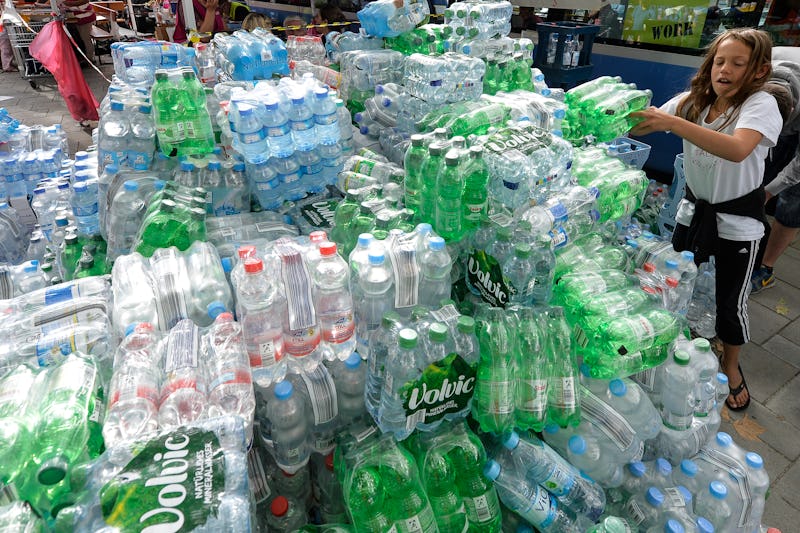 Philipp Guelland/Getty Images News/Getty Images
After Hurricane Harvey hit the Gulf of Mexico on early Thursday, Texas Gov Greg Abbott urged locals to prepare for disaster. The state has issued a strong warning for at least 30 counties, including Matagorda, Jackson, Brazoria, Austin, Colorado, Wharton, Waller, Chambers, Fort Bend, Galveston, and Harris. Forecasters predicted the possibility of surge flooding as well as heavy rainfall, in addition to dangerous winds. But along with a stern warning, officials have also issued detailed plans letting residents know how to prepare for Hurricane Harvey.
Given the potential intensity that the storm may take, the Texas Department of Transportation shared a helpful guide for Texans to follow in order to avoid dangerous accidents during Hurricane Harvey. Locals have been asked to stay put in a safe space with plenty of fresh water, rather than travel during the storm.
The National Weather Service in Houston informed residents that some areas may experience life-threatening flash flooding due to extreme rainfall. Emergency officials have also asked people living on the coastline to head inland, while those living below sea level should head to higher areas in order to avoid flooding.
For those in the areas that are scheduled to be hit hardest by Hurricane Harvey, the Department of Transportation has advised people to prep a disaster kit containing flashlights, batteries, chargers, radios, first aid kit, mobile phones, maps as well as medical information. Prior to leaving home for a safer location, the department asked residents to cover their windows and doors and to throw away loose pipes and other objects. Storms like Harvey can cause loose objects to detach and fly into the air — causing damage to people and other nearby objects. Those with pets were also advised to make arrangements so animals are not abandoned for long periods during such a distressing storm.
It's important to note that ATMs and banks are usually closed during emergencies, so residents should carry extra cash just in case. The instructions also noted that each region has its own evacuation route, which can be accessed online.
The DOT also warned drivers to be careful driving through flooded roads. Even "a few inches of water" can float a perfectly functional car, putting the driver at risk of losing control of the vehicle and hydroplaning. The guide also contained a detailed map with highway route information, evacuation details, and more.
Francisco Sanchez, who works with the Harris County Office of Homeland Security and Emergency Management noted that locals must take Hurricane Harvey seriously.
"This storm is unique in that it is going to bring a lot of rain over a broad area for quite a bit of time," he said. "The flooding is going to be the biggest thing that we are dealing with."