7 Creative Ways Florida Residents Are Preparing For Hurricane Irma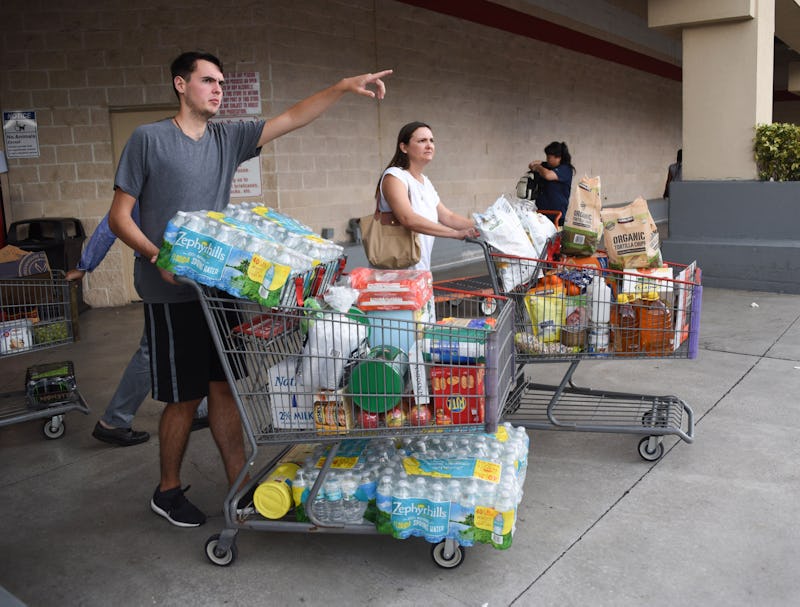 MICHELE EVE SANDBERG/AFP/Getty Images
When it comes to hurricane preparations, seriousness is the order of the day. This seems especially relevant in the case of Hurricane Irma, the monster storm heading through the Caribbean and towards the east coast of the United States. Designated a Category 5 hurricane, Irma's wind speed is the highest ever recorded for an Atlantic-based storm. Getting prepared for the potentially catastrophic impact of Hurricane Irma is an imperative for anyone living in its trajectory. Of course, being "prepared" may take on a slightly different meaning on the individual level, and people are getting creative in prepping for Hurricane Irma's landfall.
For some south Florida residents, "preparing" means leaving town. For others, it means bunking up with friends and family — power in numbers, as they say. Most plans include stocking up on water, food staples, batteries, and other necessary items should power go down. There are even some who view the hurricane as a break from school or work, perhaps even an excuse for a "hurricane party," which seems an positive attitude to take in the face of a potentially damaging natural disaster — assuming no one is ignoring evacuation orders.
Here are just a few creative ways people are preparing for Hurricane Irma.