8 Ways To Stop A Workout Migraine In Its Tracks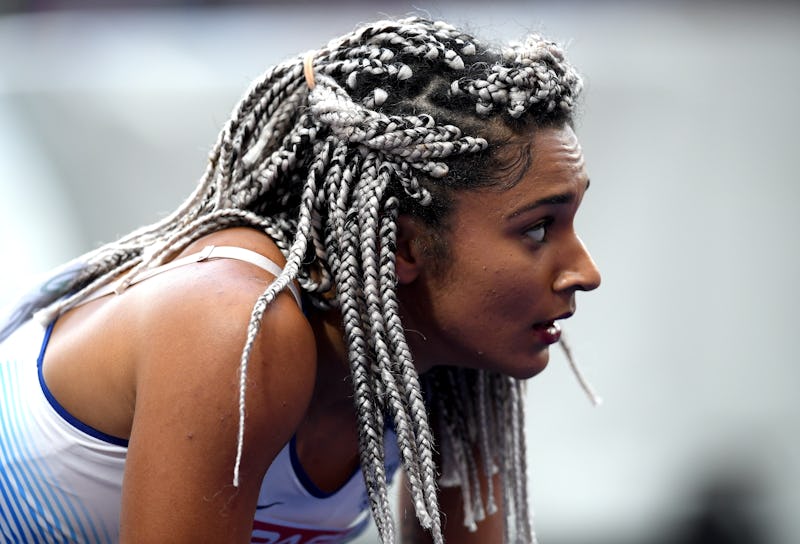 Matthias Hangst/Getty Images Sport/Getty Images
If you've been avoiding your exercise routine because working up sweat also means working up a headache or migraine, you don't have to embrace a sedentary lifestyle to remain headache-free. In fact, there are actually some hacks to prevent a workout headache or migraine so you can continue to hit the gym, trail, or the bike path on the regular. According to University Health Services at the University of California, Berkeley, a number of factors can trigger migraines, especially during exertion, including: skipping meals, changes in sleep patterns, specific foods, and dehydration. If you do suffer from migraines, don't work out if you haven't eaten, are overtired, or are dehydrated.
A study published in the journal U.S. Pharmacist noted: "Implementation of proper warm-up and nonpharmacologic measures can help prevent exercise-induced migraines in patients who experience them." Additionally, the study recommended preventive options like magnesium, riboflavin, and NSAID pain relievers. What's more, even if you're not a migraineur, if you want to remain headache-free during and after your workout, it's important to know which factors are headache triggers for you. For example, when you work out during the summer months, you're likely going to get more dehydrated, which is why drinking a lot of water is the first line of defense against workout headaches and migraines.
If you're prone to workout headaches, you're not alone. In fact, it's a real thing that's referred to as primary exercise headache, according to the American Migraine Foundation. "Primary exercise headache is commonly described as bilateral (on both sides of head) and pulsating. Primary exercise headache generally lasts from five minutes to 48 hours," the American Migraine Foundation explained on its blog. "It may have similar features to migraine and must be distinguished from migraine triggered by exertion. Primary exercise headache is more likely to occur in hot weather or at high altitude, but can occur in any weather and at any altitude."
If you want to keep working out, but you don't want the headache that comes along with it, try these hacks to prevent a workout headache.
This article was originally published on