It's Not Too Late To Protest Betsy DeVos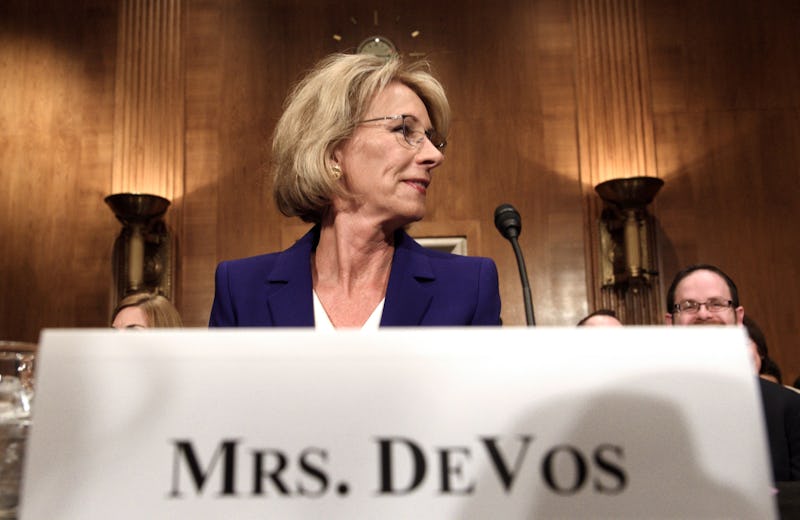 BRENDAN SMIALOWSKI/AFP/Getty Images
Betsy DeVos, President-elect Donald Trump's pick for secretary of education, was the latest would-be Cabinet member to face a Senate hearing on Tuesday. During her confirmation hearing, DeVos answered questions from the Senate committee on health, education, labor, and pensions, with topics ranging from free college tuition to the presence of guns in schools. Her answers to certain questions raised some eyebrows and may have some Americans wondering how to protest DeVos as secretary of education.
On the issue of guns in schools, DeVos effectively bunted, saying, "I think that's best left to states and locales to decide." On the issue of sexual assault on campuses, she said it would be "premature" of her to commit to upholding the previous administration's Title IX guidance. Coupled with the fact that she's never worked in the public school system or held public office, DeVos' answers during Tuesday's confirmation hearing have made her a controversial choice for the Cabinet.
However, although DeVos has never worked in a public school, she's worked extensively with the issue of education. She is well known in the Republican Party for her advocacy of school choice and she has been deeply involved in the development of charter schools in her home state of Michigan. Still, it seems to be the traditional "public school" experience that is missing from her resume, which could be concerning to some teachers, parents, and voters. If it's concerning to you, here's how to protest:
Wear Red
Some teachers, particularly those in Michigan, have begun wearing red in support of their public schools — and, reportedly, in protest of DeVos. The Lansing State Journal reported Monday that some Michigan educators have reached out to their senators to officially voice their disapproval over DeVos's potential Cabinet position.
Attend A Protest
In some places, protests against DeVos have been going on since her nomination at the end of 2016. Still, it's not too late for some events. For instance, there's a protest planned for Thursday in Portland, Oregon.
Write To Your Senator
Although the hearing for DeVos took place on Tuesday, it's not entirely clear when the Senate will actually vote on her confirmation. According to CNN, that's because her required paperwork had not cleared the Office of Government Ethics as of Tuesday morning. In the meantime, you can write to your state's senators to let them know your perspective. The Network for Public Education even set up a handy online form for sending a message.
Write An Open Letter
Why just send your letter to your senator? That may be the most direct way to protest the DeVos confirmation, but turning your letter into an open letter can inspire others to join the conversation. Here's some anti-DeVos open letter inspiration from The Huffington Post.
Find Your Own Alternative
If DeVos isn't your preferred secretary of education, then who is? However you choose to spread your message — to the Senate, to the public, etc. — strengthen the argument with a reasonable alternative. It's probably unlikely that an alternative will make it through the nomination, hearing, and confirmation process at this point, but proposing one still makes for a more actionable argument.
Ultimately, DeVos has years of experience with the Republican party and with the privatization of schools, but that may not be the sort of experience that a large number of public school teachers and administrators want in the executive branch. Tuesday's hearing was one of the last remaining hurdles to her confirmation as secretary of education — now, she just needs to have all the appropriate paperwork filed and a vote go her way. There may not be much time, but protesting DeVos is still an important way to make your voice heard as the new administration takes office.