How To Protest Donald Trump's DAPL Order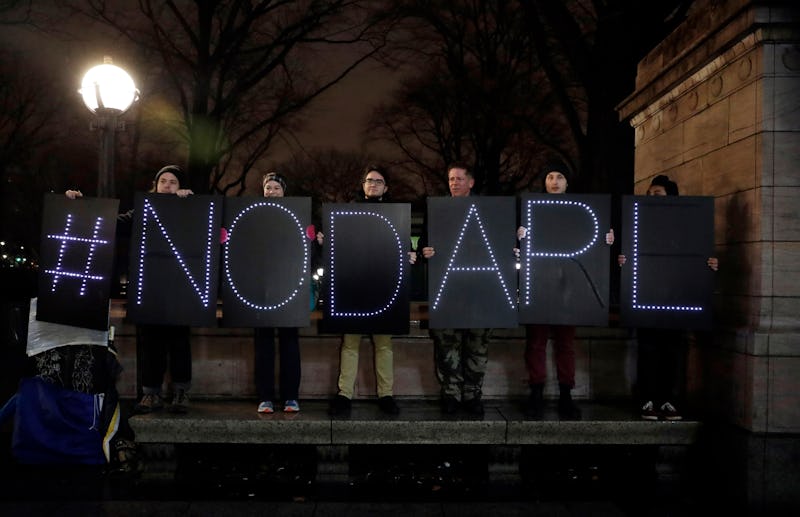 AFP/AFP/Getty Images
The Dakota Access pipeline opposition won a major victory on Dec. 5, 2016. After months spent in protest — often in harsh, even violent conditions — the Standing Rock Sioux and its allies learned that the Army Corps had halted its plans to build an oil pipeline under sites the tribe viewed as sacred, not to mention a threat to the safety of their water supply. However, President Trump yesterday signed an executive order to reinstate the Dakota Access pipeline project's continuation. Unsurprisingly, many Americans are now looking for new ways to protest against this executive move.
Since the initial decision to stop the pipeline, Sioux tribal leaders had asked that protesters leave the camp site where the opposition had been staying. However, with Trump's new order, that directive may be rescinded. Dana Yellow Fat, a council member of the Standing Rock Sioux, told Reuters that they will conduct "a total re-evaluation of our recent actions." It seems highly probable that protesters will now be asked to stay or return to the camp site, in order to revive public interest and attention to the matter.
But you don't have to travel to North Dakota in order to help the cause. As ThinkProgress recently reported, lawyers for many arrested during the protests are in real need of assistance. Several have petitioned to the North Dakota Supreme Court to allow out-of-state lawyers to come and help handle hundreds of cases. Currently, there are just 79 attorneys assigned to 265 cases, with another 264 defendants who have no assigned lawyer at all.
Those who want to financially aid the legal expenses of Native American protesters can do so through NoDAPL's official website. The site also provides links for other modes of support, such as donating to sustaining the protest camp site, donating medical supplies, and signing your name to a petition rejecting the Dakota Access pipeline.
More traditional routes of protest include calling your state representative and senators, or alternatively, sending an email or letter. Contact information for senators can be found at the Senate's website, and the House of Representatives also provides its own search engine for locating your representative and linking you to their website.
While many thought the controversy surrounding the Dakota Access Pipeline had been settled, it now appears that new round of protest will be required. Thankfully, there are plenty of ways for #NoDAPL believers to speak out against the violation of Native American rights.