6 Ways You Can Protest Hijab Bans & Support Muslim Women Around The World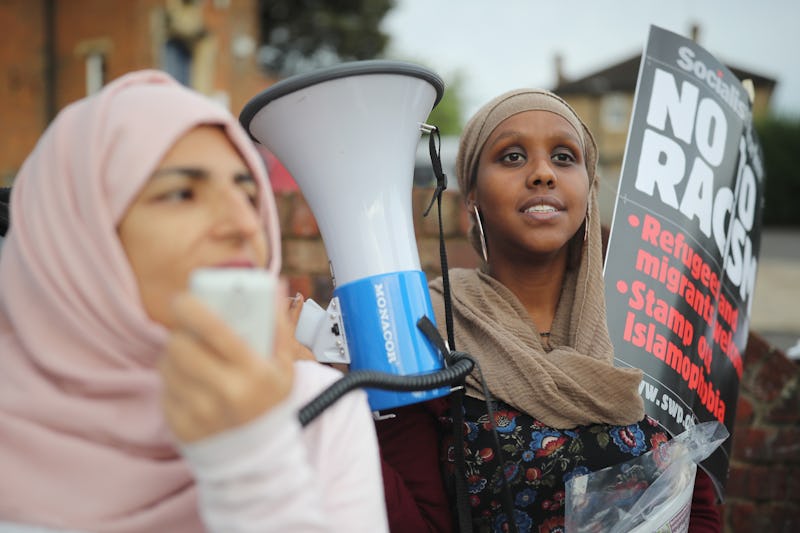 Christopher Furlong/Getty Images News/Getty Images
Muslim women who choose to wear the hijab face discrimination worldwide, and sometimes, this discrimination is systemic and comes in the form of a hijab ban. After Quebec passed a bill banning some public servants from wearing religious symbols at work, thinking about fighting back can seem overwhelming. But there are a handful of simple ways you can protest hijab bans and support Muslim women— in Quebec and around the world.
Quebec's ban, also known as Bill 21, was passed on June 16 and will impact teachers, police officers, and judges, just to name a few occupations. Although the ban includes all religious symbols, it could disproportionately affect Muslim women, seeing as hijabs are one of the most outward and visible types of religious garb. After the bill passed, Canadian Muslim organizations challenged it in front of the Superior Court, which will make its final decision on July 19. And these organizations aren't the only ones pushing back against the ban.
Malak Shalabi, a law student at Washington University, launched the Hands Off My Hijab campaign on July 11 to urge the Superior Court to reject the bill. "We have a responsibility to stand up and to speak against these laws because our voices are becoming increasingly powerful and increasingly unionized," Shalabi tells Bustle.
Quebec's religious symbol ban is not the first of its kind. France has a long history of banning the hijab and different variations of the hijab, and still has a ban on the niqab. In recent years, Belgium upheld a burka ban, along with other European countries. And even in the United States, a headdress ban on the floor of chambers was lifted after 181 years, only after Congresswoman Ilhan Omar drew attention to it.
As a Muslim woman, it's disheartening to see women in my religion face discrimination because of how they choose to express their faith. If you're enraged by discriminatory bans and want to show your support for Muslim women worldwide, here are six ways you can help.