How To Protest Trump's Birth Control Attack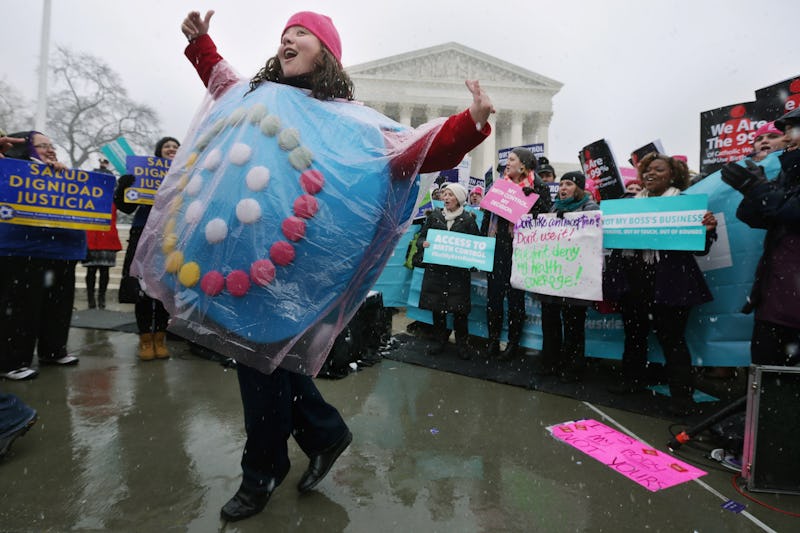 Chip Somodevilla/Getty Images News/Getty Images
With his efforts to fully repeal the Affordable Care Act having so far been unsuccessful, President Donald Trump is now reportedly looking to undermine a key aspect of the Affordable Care Act through a revision of policy. Hundreds of thousands of women could be denied birth control coverage as a result of a proposed revision to the ACA's contraception coverage mandate recently drafted by the Trump administration. Yet there may still be a way to protest Trump's attack on birth control.
Reports surfaced Wednesday that the Trump administration had drafted a revision to the ACA which would significantly broaden religious exemption requirements that enable employers and companies to deny no-cost birth control coverage to employees. Although not yet final, the draft appears to allow employers to refuse contraception coverage for any reason. That's disheartening news for the more than 55 million women whom a study commissioned by the Obama administration found would have contraception coverage with no out-of-pocket cost. Still, you can fight Trump's latest attack on birth control access.
Keep in mind that protesting Trump's move will in many ways look significantly different from previous protests against House Republicans' efforts to replace the ACA with the American Health Care Act (AHCA).
For example, because revisions to the contraception mandate do not require congressional approval, there's nothing your congressional representatives can do to stop it. Rather, the rule was drafted by the Department of Health and Human Services, and is subject to review by the Office of Management and Budget only. This means flooding Congress with messages and phone calls about your opposition to Trump's revision will have little to no effect.
Instead, focus your efforts on fighting the revision at the state level. Urge your state lawmakers to pass laws aimed at safeguarding access to no-cost or low-cost birth control. Some states, such as California, Illinois, Maryland, and Vermont already have laws geared at protecting access to contraceptive coverage while similar legislation is pending in more than a dozen other states, USA Today has reported.
However, one of the best ways to protest Trump's attack on birth control might be supporting the advocacy groups gearing up to challenge the exemption in court. Women's health advocates at the National Women's Law Center, the Center for Reproductive Rights, and the American Civil Liberties Union (ACLU) have vowed to sue the Trump administration should they follow through with weakening the requirements for the Affordable Care Act's contraception coverage mandate. You can support the fight for birth control access by donating to the National Women's Law Center, the Center for Reproductive Rights, and the ACLU.
"The Trump administration should be ready for a fight if it takes away this coverage," Gretchen Borchelt, the National Women's Law Center's vice president for reproductive rights and health, said in a statement. "If the rule is made final, we will file a lawsuit against it."
Although Trump's effort to roll back the ACA's birth control mandate may seem like an especially underhanded attack on women's health, you can fight back by supporting the organizations who'll challenge the revision should it become final and urging local lawmakers to protect women's access to no or low cost birth control.