If Trump's New Green Card Rule Infuriates You, Here's What You Can Do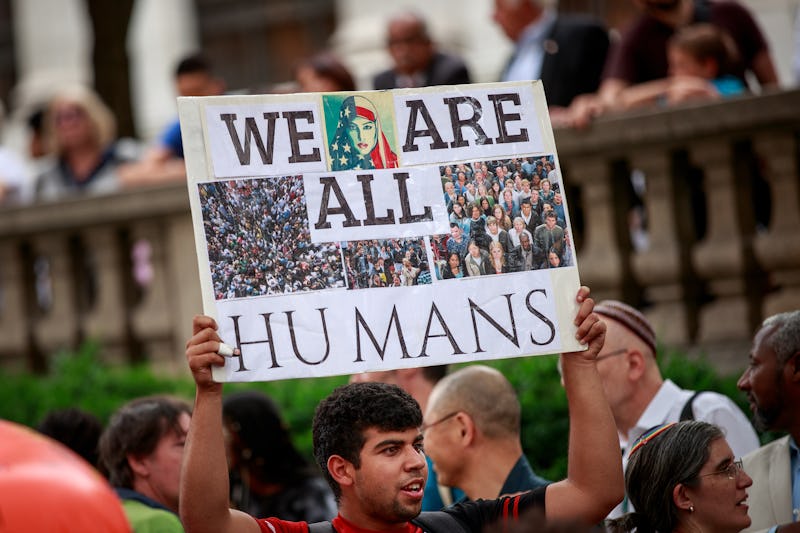 Drew Angerer/Getty Images News/Getty Images
In October, the Trump administration will implement a regulation that gives the government more power to reject green card status for thousands of immigrants. The new rule, which could favor wealthier immigrants over low-income immigrants according to Vox, has been met with swift criticism by numerous communities. And if you're one of the people who want to know how to protest Trump's new "public charge" rule, you'll be happy to know there are options.
According to Vox, the upcoming changes to the "public charge" rule (which was first codified into immigration law in 1882) will make it more difficult for legal immigrants to stay in the United States as permanent residents if they've taken advantage of public benefits in the past. These benefits include food stamps, housing assistance vouchers, and Medicaid. Per The New York Times, immigration officers will also consider an immigrant's age, health, family status, assets, and resources when making a decision about whether or not they will be granted permanent legal status.
Specifically, per the official text, the act will "render inadmissible" any immigrant who is "likely at any time to become a public charge." The text does not define "public charge" explicitly, but does mention that immigrants "within the Nation's borders [should] not depend on public resources to meet their needs, but rather rely on their own capabilities and the resources of their families, their sponsors, and private organizations."
If the idea of deporting legal immigrants simply by virtue of their use of legal public benefits infuriates you, here's how you can protest the rule in the coming months: