Alabama's Special Election Is Crucial To The Resistance — Here's How You Can Vote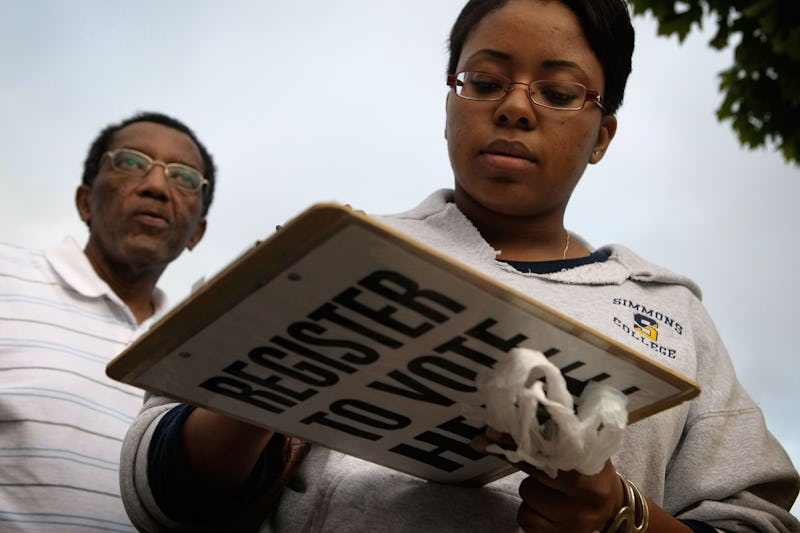 Alex Wong/Getty Images News/Getty Images
On Dec. 12, Alabamans will head to the polls and decide on their next senator. The race has captured the nation's attention: Republican candidate Roy Moore has been accused of sexual misconduct and having inappropriate relationships with young girls when he was in his 30s. He vehemently denies the allegations, but it's still given Democrats a rare chance to win a Senate seat in a blood-red state. Monday is the last day to register to vote in the Alabama special election, but if you haven't done so yet, don't worry — you can do it through an app.
Vote For Alabama is a mobile app, available on iOS and Android, that allows Alabamans to register to vote and get information about their polling places. It's free in the iTunes store and the Google Play store, making it ridiculously easy for anybody who's not yet registered to vote to do so before the end of the day and be eligible to vote on Dec. 12. Alternatively, you can also register on the Alabama Secretary of State's website if mobile apps aren't your thing.
Either way, anybody who's eligible to vote in Alabama will be allowed to vote in the special Senate election as long as they register to vote before the end of the day Monday.
The Alabama election is especially important given the party makeup of the Senate. The GOP controls 52 seats, which gives them little room for error: On any given vote, Republican leadership can only afford to lose two of their own votes. Alabama is usually considered a safe Republican seat, but if Democratic candidate Doug Jones pulls off an upset on election day — and the polls suggest that this is a real possibility — Republicans in the Senate will have a significantly harder time passing legislation. That includes President Trump's tax bill, which is already short of 50 votes and will be one vote shorter if Jones wins.
If you're not eligible to vote in Alabama, you can still play a role in this election. Take stock of your friends and family who live in Alabama, for instance, and make sure they know Monday is the last day to register to vote. Spread the word on social media as well — after all, you never know who of your followers might be a native Alabaman who hasn't filled out their voter registration yet. Don't forget to include links to Alabama's mobile registration apps, as well as the state's online registration portal, to make the process as painless as possible.
A former state Supreme Court judge, Moore is extremely conservative even by Alabama's standards. He has said that "homosexual conduct" should be illegal, and recently insisted that the Supreme Court's legalization of gay marriage was "even worse" than the 1857 Dredd Scott ruling, in which the court ruled that black people were property, not citizens.
As a judge, Moore often refused to enforce federal laws that conflicted with his personal religious beliefs. In 2003, he defied a federal court order to relocate a Ten Commandments monument from state grounds; as a result, he was removed from the bench by a state ethics panel. But Moore nevertheless ran and won election to the court again in 2012. Four years later, however, he was suspended by the same ethics panel, this time for ordering probate judges not to give marriage licenses to same-sex couples.
Nevertheless, Moore consistently led in early polls of this Senate race, and for the majority of the campaign, many assumed his victory was a foregone conclusion. That all changed in November, however, when a woman accused Moore of initiating sexual contact with her when she was 14 years old and he was in his 30s. Six more women came forward to accuse Moore of inappropriate sexual conduct after that; he's since plummeted in the polls and is now in a virtual tie with Jones.
Anything could happen when the polls open on December 12th. If you're an Alabaman and want your voice to be heard, make sure you're registered to vote by the end of the day on Monday.