How To Repair Damage To Your Hair After All That Frolicking At The Beach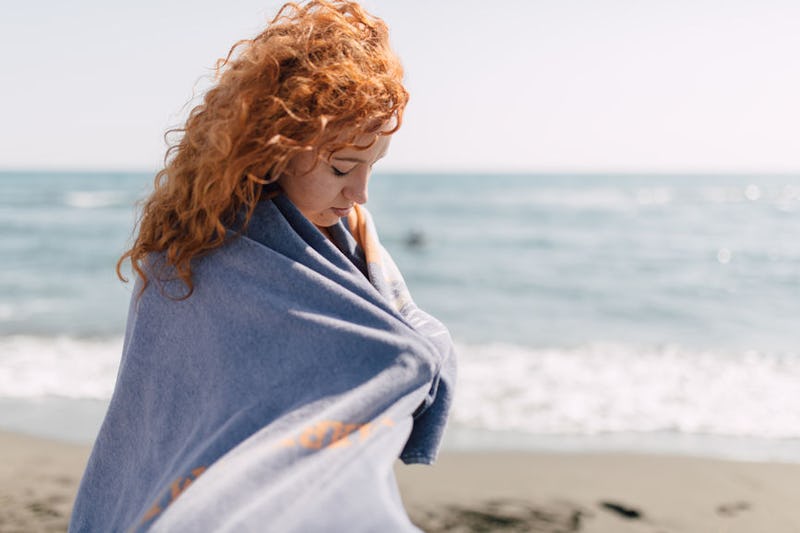 Boris Jovanovic/Stocksy
After a week or two in the sun, your skin usually has that healthy, sun-kissed glow, but more often than not the same can't be said for your hair. The sea, sand, and chlorine can play havoc with the colour and condition, leaving your hair looking bedraggled before you're even back in Blighty. If you didn't spend your entire holiday wearing a hat, there's a chance your scalp could have caught the sun too, resulting in dry, itchy, flakiness. But fear not, this is how to repair hair after sun damage.
While most hair stylists would recommend making a trip to the salon to have an inch or two cut off, your colour tweaked and a conditioning treatment, not all of us want to splash the cash after an indulgent week away. Plus, if your hair takes as long as mine to grow you definitely won't want to be trimming it (even if all the experts tell you it's the quickest way to achieve longer hair).
Fortunately, there are some simple steps that you can take to rehydrate and revitalise your hair without stepping foot in the salon, or breaking the bank. Here's our easy-to-follow guide to fixing your post-holiday hair in the days and weeks after you get home.
Hit Of Hydration
Regardless of your hair type, a conditioning mask is a worthy investment and should be swapped in for your conditioner for the first couple of weeks after your holiday. "Regular use of a mask or treatment will keep your hair in healthy condition and help fortify it, so it resists damage," says hairstylist Paul Percival. If you've got fine hair and are worried about heavy textures weighing your hair down, look to IGK Hair Prenup Instant Spray Hair Mask, £27 - it's lightweight yet packs an impressively nourishing punch. Thicker, drier hair types should look to Briogeo Don't Despair Repair Deep Conditioning Mask, £30, and comb it through hair from mid-lengths to the ends.
Rethink Your Regime
"It's easier said than done, but try not to wash your hair too often," says hairstylist Adam Reed. "Once every two-to-three days is enough. If you're used to washing your hair daily, make the change and your hair will regulate itself over a couple of weeks." This will also help prevent your hair from feeling dry. In the meantime, go hard with the dry shampoo to revive your hair on the in-between days. I love Aussie Mega Dry Shampoo, £2.99, as it doesn't leave you have looking chalky or feeling gritty.
Swap Out Your Salt Spray
A gritty salt spray might have been giving your hair a textured lease of life and a shot of volume, they can be incredibly drying. When you get back from holiday switch it out for a cuticle smoothing serum. Tresemme Serum Keratin Smooth Colour, £3.19, is particularly good as it doubles up as a leave-on treatment. If you've got fine hair and are concerned about weighing it down, try spraying a lightweight mist, such as Aveda Brilliant Spray On Shine, £16.80, into your hair brush and comb through.
Colour Correction
While the sun can lighten your colour and bring the red out in brunette hues, chlorine can give blonde shades a green tinge. Admittedly you can rectify while you're away with the help of tomato ketchup, but if you didn't have the foresight you can also employ Josh Wood's Shade Shot, £5, when you land back home. Mix it into your hair mask, leave for 10 minutes and not only does it correct your shade, it also gives your hair a healthy shine. An all round winner some might say.
Split End Sealers
To be honest, split ends are an all-year-round hassle, but the salty sea water and sand can exacerbate the situation. Fortunately ghd has a dreamy product, Advanced Split End Therapy, £16.96, smoothes and seals each strand as you straighten or blow-dry your hair to disguise any split ends. If you don't want to use heat, try Percy & Reed Perfectly Perfecting Wonder Treatment Oil+, £25. Warm up a pea-size amount between the palms of your hands and smooth your ends. While it won't keep split ends at bay forever, it will give you a couple of weeks grace until you can visit the salon.
So there you have it. Follow this five step guide and you'll have you hair in tip top condition again in no time.