Here's How To Get Your iPhone Battery Replaced For Only $29, No Matter How Old It Is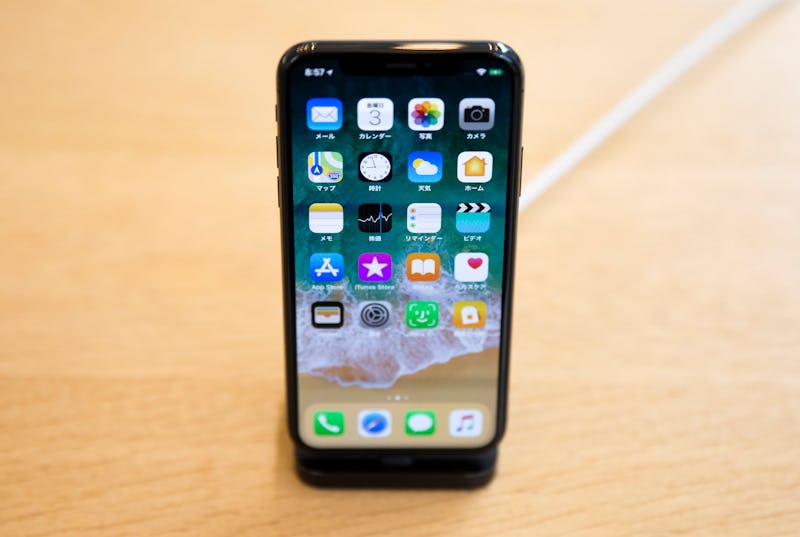 Tomohiro Ohsumi/Getty Images News/Getty Images
While flipping from app to app on your iPhone recently, you may have noticed a significant drop in your iPhone's battery. Or, maybe everything is loading at a glacial speed while your iPhone battery, on the other hand, is depleting at a cruel, rapid rate. Don't worry, though — you can keep gliding into the new year with positivity, because thanks to Apple, this can all be fixed on the cheap. If you're wondering how to replace your iPhone battery for $29, get ready for an answer that will satisfy both your app hopping tendencies and resolution to save more money.
It's 2018, so I feel pretty comfortable confessing that I live on my phone. I'm sure the rest of you do too. My pocket-sized device is also my mainframe, my switchboard, and the backbone of my personal operations. Everything from e-mails to heartwarming texts to notes to self are stashed on my phone. Not to mention, the 4,484 pictures of food I once ate and could possibly #tbt. My battery, I'm sure you can imagine, is prone to depletion. (I don't even want to know how many times a day I refresh my Instagram feed which could be the sole purpose for my almost constantly dwindling device.) It's important to keep this baby charged. You know, in case of an impromptu taco photo shoot or a call from mom. Keeping your phone updated is a priority these days, and you can make sure your phone's battery lives its most vivacious life in 2018 for only $29.
It was reported in December 2017 that Apple was being blamed for purposely slowing down older iPhone models. People, needless to say, were not thrilled with this news, or their slower phones, and reached for their iPitchforks. Apple, in response, apologized. Within that apology came good news for those affected by the slow down. The tech giant promised, "Apple is reducing the price of an out-of-warranty iPhone battery replacement by $50 — from $79 to $29 — for anyone with an iPhone 6 or later whose battery needs to be replaced, starting in late January and available worldwide through December 2018." But there's even better news.
An Apple spokesperson informed Mashable that the deal would be available as early as Dec. 31, 2017. Meaning, as of Jan. 2, 2018, you could be on your way to a healthier new you — I mean, iPhone. If you have the iPhone 6, 6S, iPhone SE, iPhone 7, iPhone 8, or even the iPhone X and are experiencing battery life woe, it is about time to make an appointment with your nearest Genius Bar. Yes, that's really all you have to do to get your phone back into its best shape. Open a new tab in your browser, like right now, and claim the next available appointment at the Genius Bar. You do have until December 2018 to get this replacement for $29, but, why not start enjoying a more ~powerful~ life now?
Yes, there has been a slow down on a whole lot of phones. The very phones that we rely on for work, communication with our moms and ~creating content~. But in the spirit of New Years, which is to say resolutions, there is just that — a resolution.
If you've been experiencing frustration with a constantly draining battery and overall sluggish iPhone, serenity and high speeds are on the horizon. Just think of all the things you can do at once, like download playlists and take pictures of your dinner, in this new year with a new battery. You'll be back to hopping from Snapchat to Instagram to Maps to Weather to Facebook to iMessage without significant damage to your battery life in no time when you make an appointment with the Genius Bar ASAP.