These Stats About Sexual Harassment On Public Transport Are Sadly Unsurprising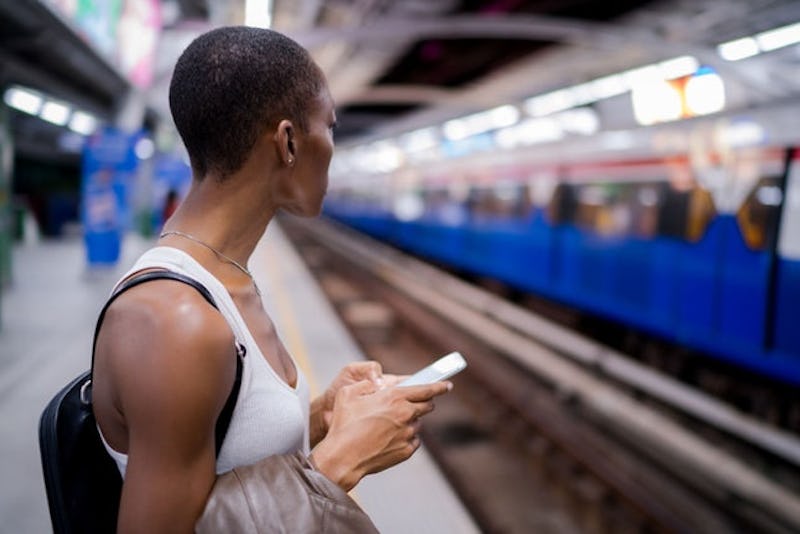 Jovo Jovanovic/Stocksy
According to new figures released by the British Transport Police, the number of sexual offences recorded on British trains has increased by 16% since last year, as the BBC reports. The figures show that between April 2017 and March 2018, 2,472 sexual offences were reported, while 2,132 were reported between April 2016 and March 2017. The rise has been attributed in part to the #MeToo movement, which has galvanised women to report sexual violence. It's worth taking note of the British Transport Police's advice on how to report sexual harassment on public transport, in the event that you experience it.
The British Transport Police encourage passengers across Britain to "report anything that makes [them] feel uncomfortable," stressing that "no incident or detail is too small or trivial." You can text 61016 with the details of the incident (including when and where it occurred), or call 0800 40 50 40. Transport for London (TfL) also recommends calling 101. Unsure about what's likely to happen next? TfL provides a guide, noting that victims aren't obliged to go to a police station in order to make an official report.
The British Transport Police attributed the rise in recorded sexual offences in part to an improved method of recording crime, saying this has granted victims "more confidence to report crime." In a press release, DCC Adrian Hanstock said that 3,304 crimes of all types were reported through the 61016 text service from 2017 to 2018, adding, "It is likely that we may not have heard about these crimes before this service was available."
He also pointed to two major British Transport Police campaigns which encourage passengers to report crimes on public transport: the Report It To Stop It campaign, targeting sexual offences, and the We Stand Together campaign, targeting hate crime.
Speaking to the BBC, Rachel Krys, co-director of the End Violence Against Women Coalition, said, "There has been a huge increase in the number of women reporting sexual violence in the last year, partly as a consequence of #MeToo and because we have seen initiatives to encourage reporting over the last few years."
She continued, "If we're going to encourage women to report sexual violence, we also need to make sure they can have confidence their report will be taken seriously, and that everything will be done to ensure their report results in action."
Despite the rise in reports observed by the British Transport Police, reporting rates for sexual offences on public transport and beyond remain strikingly low. According to Transport for London, for example, 90 per cent of "unwanted sexual behaviour" on London public transport isn't reported. And the latest report from the Office of National Statistics, analysing sexual offences throughout England and Wales in the year ending March 2017, revealed that 83 per cent of victims of sexual assault didn't report their experiences.
Why do victims hesitate to report sexual assault? There's a multitude of reasons, as the recent #WhyIDidntReport hashtag demonstrates: Victims fear they won't be believed, or the legal system will further traumatise or fail to help them, or they'll be perceived as complicit. The British Transport Police statistics might demonstrate an encouraging trend, but significant progress is still required to ensure those who want to report feel safe and confident in doing so.