How To Safely View An Eclipse Without Frying Your Eyeballs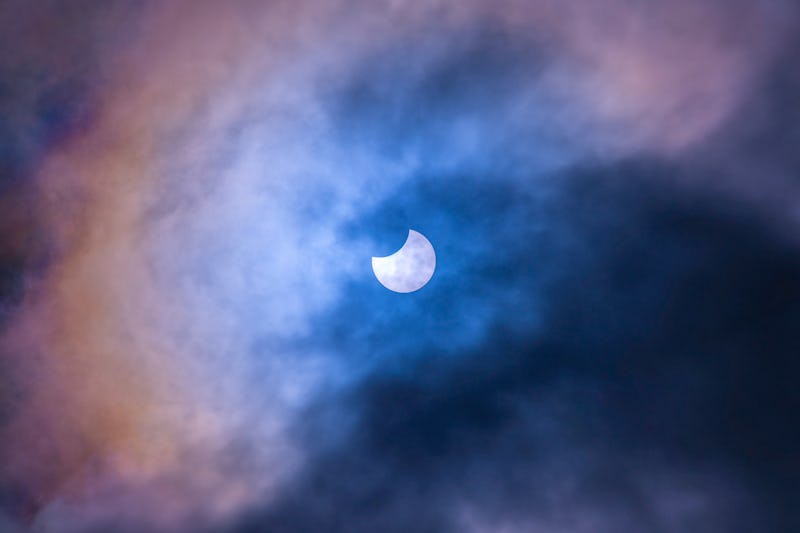 Alex Treadway/Photodisc/Getty Images
On Monday, August 21st, the U.S. will experience its first solar eclipse since 1979. Whether you're planning a road trip to the "path of totality," or just hoping to take a quick peek over your lunch break, it's important to take proper precautions, because staring directly at the sun, even when it's partially covered, is generally a bad idea that can result in permanent eye damage. Fortunately, there are a few ways you can safely view an eclipse.
Contrary to what you may have learned in grade school, the sun is not in fact brighter during an eclipse. People are only more susceptible to injury during an eclipse because it's easier to stare at the sun for an extended amount of time when it's partially covered, and because our retinas don't have pain receptors, the UV rays can burn light-sensitive cells in our eyes before think to look away.
And it just takes a few seconds of exposure to do a lifetime of damage. Lou Tomososki, for example, a 70-year-old Oregon man, has experienced vision problems ever since he looked directly at a partial eclipse back in 1962.
""It doesn't get any worse and it doesn't get any better," he told his local television station, KGW. "You know how the news people blur a license plate out? That's what I have on the right eye, about the size of a pea, I can't see around that."
As long as you are careful though, you can safely enjoy what promises to be a spectacular celestial event. Here are some tips for how to view the eclipse safely.