How To Sell Your Old Clothes & Make A Profit, According To Experts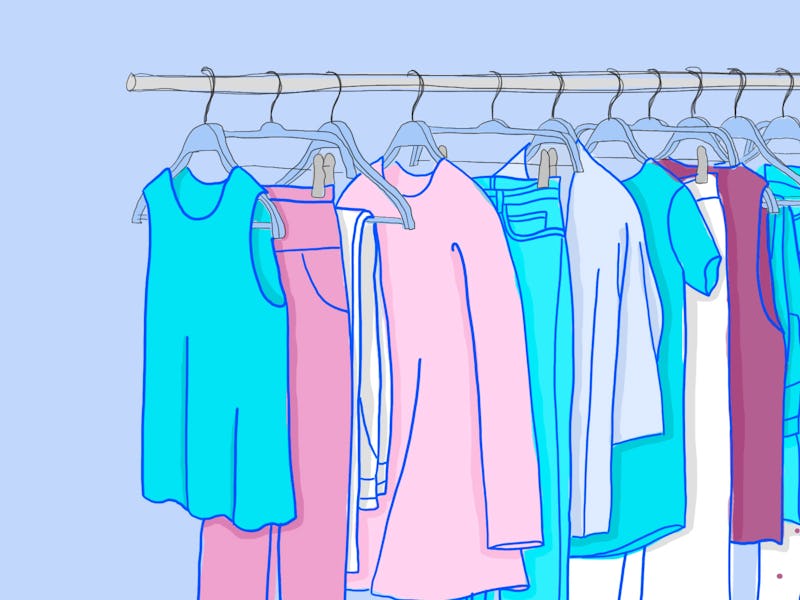 Bry Crasch/Bustle
Nearly every season, you probably take a hard look at your closet and think, "I have nothing to wear" or "I hate everything in here." While a whole wardrobe makeover might not be within your budget, there is something you can do to save money for new threads, while also making room in your closet: sell your old clothes. Whether you're looking to clean out your closet for a complete overhaul or you want to make some room for some new things, why not make a bit of extra buck while you're doing so?
"There's always extra money laying around the house and there's always a number of things in their closet they can easily sell for a pretty great price," says Noah Zamansky, Head of Assisted Selling at eBay. It's surprising what you might find hiding behind the clothes you wear the most. Maybe it's last season's trendy It-top that simply doesn't work anymore, that denim minidress you've outgrown, or even a pair of shoes from two years ago that you never found the right occasion for. As they often say, one man's trash is another man's treasure.
Taking your clothes to a resale store can be easy and simple, but given that what you sell is at the mercy of an associate, you might not be able to rid yourself of everything. Along with that, sometimes you can't even get what you feel your clothes deserve in terms of payment.
Put the matters into your own hands and open up your own shop; it's easier than you might think. Here are some key tips from selling experts.
1. Consider The Season When Selling Items
"Everyone has clothing hanging in their closets that they simply don't wear, so Poshmark created a simple and fun way to buy, sell, and connect over fashion," Poshmark co-founder Tracy Sun says.
This usually means gently worn (i.e., minimal wear such as stains and holes), new without tags (clothes you've never worn but the tags are removed), or new with tags (brand new and never worn with tags to prove so). Items in these conditions will typically sell best; those that were loved a bit more strongly should take a trip to the donation store.
It's also important to know the seasons you're trying to sell for. The best way to think about it is this — ask yourself, "Would I buy this now?" For example, you're not going to be searching for a heavy winter coat in the middle of winter, and you might not be shopping for cutoff jean shorts when there's a blizzard outside. "Keep the season in mind," says Zamansky. "Sellers have a better chance of selling their items if they are in season and you'll always get a higher price point during that season."
2. Brand Names Sell
If you're someone who happens to have a few buzzworthy labels here and there, be sure to note those in your listing. Think of what someone might be searching for when writing up your listing, and be sure to put the brand name first. That way, you'll be able to optimize the amount of clicks your item gets.
Some popular brands at the moment are Nike, J. Crew, Kate Spade, Tory Burch, Michael Kors and Alexander Wang, according to both Zamansky and Sun.
3. Know Your Options
Once you've rounded up the clothes you want to part with, it's time to open up your own store. With all the different options and platforms to sell your clothes it can be tough to decide where to start.
If you want a bit more control over your prices and work directly with the people you're selling to, there's Poshmark or eBay. You could even open up your own Instagram account! With these platforms, you set the price, take the photos, communicate with potential customers, and ship them off.
"For anyone looking to start selling on Poshmark, they can simply take a few photos of their new or gently used clothing and accessories, write a quick description, set the price and put the item up for sale, all in just 60 seconds," Sun says. If you're taking the route of eBay or Instagram, you'll also want to set up a PayPal account to send invoices to your customers, according to Olivia Marie, co-Founder of Instagram account MARKT.
If you're new to selling or don't have the time to list, sell, and ship, there are services such as thredUp and eBay Valet. For thredUp, you can send in a bunch of your previously loved clothes and from there, they'll select what they want to sell and do the rest; they'll even provide guidelines for what's in and out of season.
"We do all the work for you — processing, photographing, listing the clothing, and then shipping it to the lucky new owners," says Kathleen Weng, Vice President of Merchandising at thredUp. eBay Valet is similar in the sense that they'll do most of the work for you, along with provide a price range for what you want to sell before you send in your clothes. From there, they'll take the photos, list the items, and ship.
4. Photos Are Super Important
"The more you can describe your item with great photos, the more the buyer can tell. As for the quality, they really rely on the quality of the photos," Zamansky tells me. He also suggests using a mannequin, if possible, to show what the garment will look like on the body. Photos are key to a good listing, and you can also use them to show any wears and tears there might be in the garment for your customer. Try to get as many angles as possible, showing every unique detail to the garment.
"A high-quality cover shot makes all the difference. Take time to style your images — focus on clarity, composition and lighting to guarantee quick sales," says Sun.
5. Be Social
Each of these platforms are social, which means engaging with each other is very important, whether it's being responsive and talking with your customers about any questions they might have, or with other buyers. "Poshmark is a social platform by nature, so success on Poshmark starts with a social mindset. Items will sell more quickly when shoppers like, comment, share and follow other sellers," Sun says. In other words, high engagement equals high sales.
The same goes for Instagram stores, says Marie. Interact with those you might find similar to yourself. "Start by following brands or people that fit your aesthetic to identify a specific audience you want to appeal to. Don't follow too many at one given time though. It's a bad look if you have way less followers than the amount you're following. Always add a few hashtags but not too many," she tells me. "When posting, don't do more than 3 at one given time as you don't want to spam your followers. I would say stick to max 5 posts a day."
If you decide you want to sell more than just your old clothes, and create a store of handpicked items, start out by looking through thrift stores, Marie suggests. Buy things at the lowest price possible in order to make the most profit. Marie also advises to go with your gut when shopping for your new online store. If you wouldn't buy it for yourself, don't buy it for your clientele.
With a bit of digging and patience, recycling your fashion can be as easy as snapping a photo and sending a message or email. It also makes an impact on sustainable living, making old things new again. As fashion continues to move through a revolving door, selling your old clothes will not only give you the extra money for that next wardrobe splurge, but it will also give someone an opportunity to love that item all over again.