Support The Women's March, Even If You Can't Go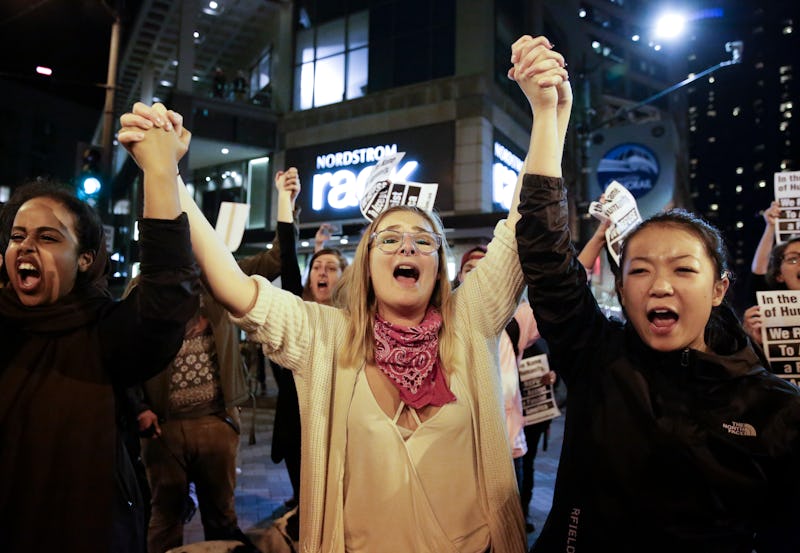 JASON REDMOND/AFP/Getty Images
After the unexpected victory of Donald Trump, protesters took to the streets in cities across the United States to register their disapproval with the president-elect. On Jan. 21, the day after Trump's inauguration, protesters will march for what may be the biggest protest of them all. The Women's March on Washington has more than 100,000 registered participants, according to a recent Washington Post article. More than 250,000 people have RSVPed to the event's official Facebook page and to the many regional pages that were created in solidarity.
Marchers seek to demonstrate against Trump's record on women — which includes bragging about non-consensual sexual behavior, facing multiple sexual allegations (all of which he has repeatedly denied), calling women pigs, dogs, and bimbos — and to promote policies like protecting women's reproductive rights and create better family leave programs.
The Facebook event page also declares the goals of the march:
The Women's March on Washington will send a bold message to our new administration on their first day in office, and to the world that women's rights are human rights. We stand together, recognizing that defending the most marginalized among us is defending all of us.
The group encourages supporters to try to get to Washington for the inauguration, but for would-be activists who cannot make the trek, there are many other ways to get involved.
Get Involved With Your Local Women's March
The main Facebook page of the women's march includes links to other events in states and metro areas across the country, and even allied events in Canada, Puerto Rico, Mexico, and Switzerland. Check to see if there is an event — or even a satellite march — in your area.
Donate To The Women's March
If you can't make it to Washington, you can show your support with your wallet. instead. Donations made at the Women's March Crowdrise Page will help fund logistics and expenses for the march.
Stock Up On Feminist Products
March merch! The Women's March is operating an online store, the proceeds of which will help get women to Washington. If you want more styles (like the ones pictured above), feminist clothing website The Outrage is also selling products that help benefit the protesters.
Call Your Elected Officials To Voice Your Support
Show your support for women's rights by calling your senators and congressional representatives on Inauguration Day or the day of the march. Check out his or her voting record on a website like Vote Smart and either thank them for supporting women or encourage them to do better. Make sure to call your local and state officials, too!
Sign Up To Volunteer With Women's Rights Organizations
Organizations like Planned Parenthood help women all over the country but are often in need of volunteers. Show your support for the march by signing up to help your local chapter. You could also sign up to volunteer for other organizations that have partnered with the march, including Amnesty International, Human Rights Watch, and the NAACP.
Help Get Women Elected to Public Office
If you don't want to donate directly to the march, consider donating to another group that promotes women. EMILY's List, for example, seeks to get women elected to political office throughout the country. You could also donate to the reelection campaigns of female senators like Missouri's Claire McCaskill and Michigan's Debbie Stabenow, who will be up for reelection in 2018.
Help Spread the Word About the Women's March
Talk to your family and friends about the upcoming march to make sure as many people know about it as possible, particularly anyone you know who lives in or near Washington. On Jan. 21, share information about and images from the march on social media to help spread and promote its message.