Everything You Need To Know About Apple's New iPhone 8 Event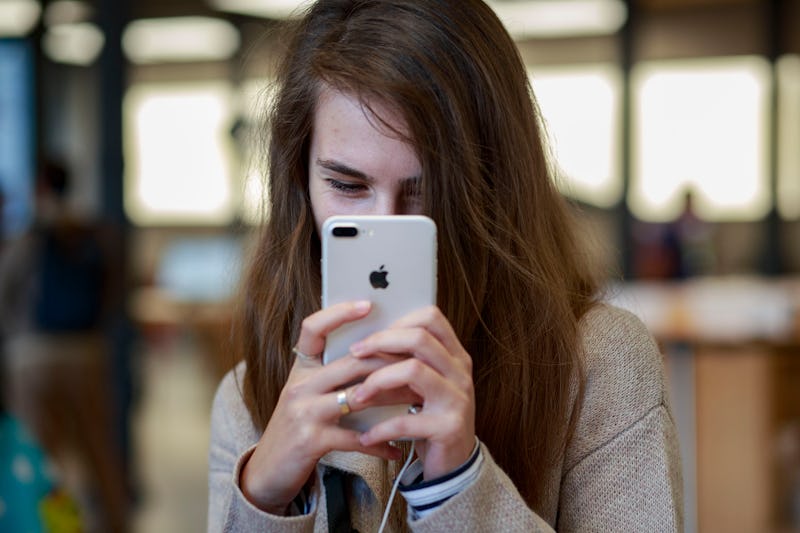 Gonzalo Arroyo Moreno/Getty Images News/Getty Images
September is finally here, and with it comes the hustle and bustle of back to school, the changing colors of fall foliage, pumpkin spice everything, and, oh yeah — Apple's annual launch event. This year, Apple is expected to mark the iPhone's 10th anniversary by rolling out an all new iPhone model. For those who can't be there in person to watch the tech giant unveil its latest products, you can stream the Apple iPhone 8 event online.
Apple will kick off its event from the brand-spanking new Steve Jobs Theater at its Cupertino Campus in California on Sept. 12 at 10 a.m. PDT. You can watch the event live at the Apple Special Event page here. It's worth noting that, if you're watching from a laptop or desktop computer, the live-stream may only work in Safari or Edge (PC) browsers. Other ways to watch include the Apple Events channel on Apple TV. Here's the specific requirements needed for live streaming as noted on Apple's Special Events page:
Live streaming uses Apple's HTTP Live Streaming (HLS) technology. HLS requires an iPhone, iPad, or iPod touch with Safari on iOS 9.0 or later, a Mac with Safari on macOS v10.11 or later, or a PC with Microsoft Edge on Windows 10. Streaming via Apple TV requires an Apple TV (2nd or 3rd generation) with software 6.2 or later or an Apple TV (4th generation).
It's expected that Apple will unveil not one, not two, but three new iPhones at its forthcoming launch: two that will stand as updates to the current generation of iPhones and one "deluxe" edition. The most anticipated of these new phones is of course, the "deluxe" edition, which many tech insiders have been referring to as the iPhone 8. However, it's unclear if Apple will continue to follow its traditional naming custom or opt for a numberless moniker to mark the iPhone's milestone anniversary. Both the names Phone X and iPhone Edition are among the possibilities being floated about.
Whatever the name ends up being, the "deluxe" iPhone is rumored to pack some pretty powerful features. Some of the more anticipated features include an edge-to-edge OLED display screen slightly larger than that of the iPhone 7 Plus and a 3D front camera capable of facial recognition, which is rumored to be replacing Touch ID and previous unlock methods. Other rumored changes include the replacement of the traditional home button with a virtual, onscreen button and a new "blush gold" color option.
But don't expect the "deluxe" version of Apple's iPhone to come cheap. The so-called iPhone 8 is rumored to be priced at anywhere between $999 and $1,200, making it the most expensive iPhone Apple has ever rolled out. Yet even a $1,200 price tag won't make the so-called iPhone 8 the most expensive iPhone on the market today. According to BGR's Mike Wehner, the title of most expensive iPhone on the market goes to the original iPhone. Brand new, factory sealed iPhone 2Gs (the technical name for the original iPhone) have sold for anywhere between $3,000 and $50,000 on eBay, according to Wehner's research.
However, Apple's launch event won't just be about phones. The tech giant is also expected to unveil the next Apple Watch, Apple TV, as well as updates to iOS and macOS High Sierra.
Of course, nothing will be confirmed until Apple unveils its latest devices at its highly-anticipated event next week. And given the rumors about Apple's newest smartphone — not to mention the fact that the event coincides with the iPhone's first major milestone anniversary — it'll be worth it to tune in live to Apple's unveiling whether you're an iPhone loyalist or simply consider yourself to be a tech geek.