How To Watch BBC America's Latest Mind-Blowing Nature Doc Without A TV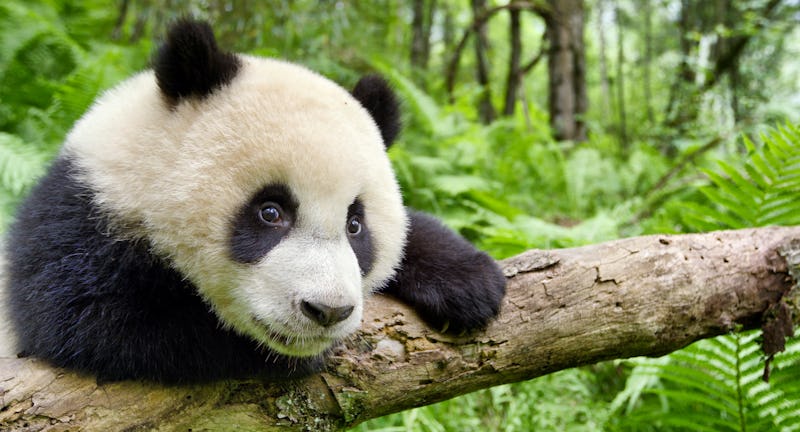 Earth Film Productions Limited
If you've been itching for a fresh installment of nature delivered straight to your TV, then you're in luck. The sequel to BBC's Earth already aired in the U.K. at the end of last year, but all of its giant pandas, penguins, sloths and more will be migrating to American televisions this weekend for the first time ever. You can catch Earth: One Amazing Day on BBC America on Saturday, July 7. But how can you stream Earth: One Amazing Day? First, a little background.
Earth: One Amazing Day premiered in theaters in the U.S. back on Oct. 6, 2017, as reported by the Huffington Post. Shortly after that, it made its U.K. premiere on the BBC on Oct. 20. It's the sequel to BBC Earth's feature-length documentary, Earth, which is narrated by the dulcet tones of James Earl Jones. For this program, however, Robert Redford takes over the role of narrator. (Jackie Chan did the Mandarin language version, per the BBC.)
The premise of the documentary film is to track — over the course of just 90 minutes — an entire day on the earth. The official synopsis reads:
"Over the course of one single day, Earth: One Amazing Day tracks the sun from the highest mountains to the remotest islands, from exotic jungles to urban jungles. Astounding breakthroughs in filmmaking technology bring the audience up close and personal with a cast of unforgettable characters: a baby zebra desperate to cross a swollen river, a penguin who heroically undertakes a death-defying daily commute to feed his family, a family of sperm whales who like to snooze vertically, and a sloth on the hunt for love."
All in all, this Earth sequel received pretty decent reviews, although some critics were quick to call it predictable. In the first line of her review, Leslie Felperin of The Guardian labeled Earth: One Amazing Day as "perfectly serviceable and somewhat conventional," and later slammed Redford's narration as "functional but lack[ing] the character or intelligence of David Attenborough," the narrator of Planet Earth.
Frank Scheck of The Hollywood Reporter was kinder, praising both Redford's lines and his delivery, saying:
"[T]he narration is thankfully free of cliches and sermonizing, gracefully enhancing the marvelous footage without feeling overly intrusive. It's wonderfully delivered by Redford, whose soothing voice, not to mention his long association with environmental causes, makes him perfectly suited for the job."
But rather than rely on the critics, how can you stream Earth: One Amazing Day for yourself and make up your own mind about the film? If you're already a cable subscriber with access to BBC America, then you can log on to the BBC America website and set up streaming to your devices. Unfortunately, Earth: One Amazing Day isn't available yet on Netflix, Hulu, or Amazon Prime. Netflix does offer a handful of other BBC America titles, though, so maybe they'll get the rights to Earth: One Amazing Day soon.
If you're interested in nature docs, though, Netflix should have more than enough content to keep you entertained. Unfortunately, the original Earth isn't available there either, but you can catch the TV series counterpart, Planet Earth, and its follow-up Planet Earth II. THR's Tim Goodman referred to the American premiere of Planet Earth back in 2007 as "nothing short of a revolution in nature documentary filmmaking." Both the first and the second series showcase nature at its most breathtaking, beautiful, and surprising. And even if you've already seen them, they hold up against a second (and third, and fourth) watch. Plus, Franceska Rudkin of the New Zealand Herald says that Planet Earth II actually shares some footage with Earth: One Amazing Day, so think of it as kind of an extended preview.
You could also try Blue Planet, Life, or The Hunt, all of which are from BBC Earth. My personal favorite, though, is hands down South Pacific. If you (like myself) doubted that anyone's voice could hold up to David Attenborough, Benedict Cumberbatch might just be enough to win you over. Sherlock gives an admirable performance, but it's the fact that he can never quite seem to correctly pronounce the word "penguins" that makes his narration truly unforgettable.
You've still got time to marathon them all before Saturday, that way you can do a full performance review for Robert Redford and weigh Earth: One Amazing Day against the competition.