There's A Second Shark Week That Ocean Lovers Need To Know About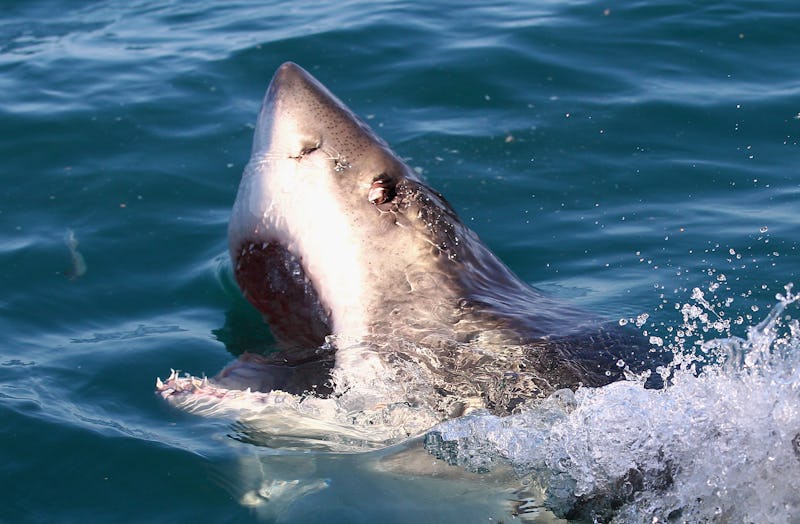 Ryan Pierse/Getty Images News/Getty Images
By now, shark lovers should be well acquainted with Discovery Channel's Shark Week, an annual block of programming that's been running for nearly three decades. But for the last five years, another wave of shark-infested shows have been quietly coming for its sharp-toothed crown, and if you want your fill of the ocean's most fearsome predators, you'll want to know how to stream Nat Geo WILD's SharkFest.
First, the details: SharkFest runs from Sunday, July 23 through Friday, July 28, which means six days worth of Jaws-ome content. Among the main attractions are Eli Martinez's nighttime dive with hungry tiger sharks in Monday's Tiger Shark Terror, a peek into an underwater oasis where sharks flock in Tuesday's Shark Swarm, and some cheeky promo from Olympian swimmer Ryan Lochte, whose appearance is appropriately tagged "Jeah! meets Jaws."
The good news? You can watch National Geographic live via your laptop, or a day later on your smartphone with the Nat Geo TV app. The bad news? You still need to log in with your cable provider, so unless you've got some friends and family who are generous with their passwords, this only works for those without televisions, not for those who are entirely cable-averse.
Still, there are a whole sea of reasons why you should find a way to tune in.
Festivals Are Fun, Weeks Are Not
Nat Geo WILD really had some fun with its press materials, and you know what? They have a point.
They Embrace Their Second Place Status
Nat Geo WILD is very aware that Shark Week is the reigning champ, but that isn't stopping the network from trying.
It's Just As Educational
Discovery and Nat Geo WILD may both be rolling out shark-focused content, but they have the same goal: To shed insight on a deep sea creature that's too often misunderstood.
You'll Learn More
The theme may be similar, but each channel has different content, which means if you make time for both, you'll learn twice as much.
You Can Never Have Enough Sharks
This much shark content only comes once a year. Embrace it!