How To Stream Sally Yates' First Interview Since Dismissal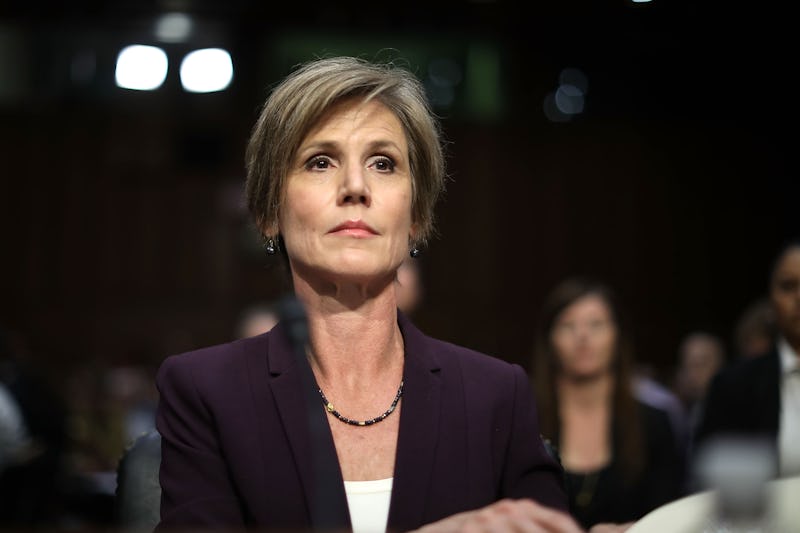 Chip Somodevilla/Getty Images News/Getty Images
CNN's Anderson Cooper will be interviewing former acting attorney general Sally Yates on Tuesday at 8 p.m. Those without cable TV need not worry, since there is a way to stream Yates' first interview since her dismissal. This will be Yates' first media appearance ever since Donald Trump fired her in January after her refusal to defend Trump's controversial travel ban. Yates declined to defend the travel ban — which initially targeted seven, and later six, Muslim-majority countries — and directed the Justice Department to abstain from making legal defenses of Trump's executive order.
In addition to refusing to defend the travel and immigration executive order, Yates recently testified about Trump's first national security advisor, Michael Flynn, and her concerns about possible contact with Russia.
If you don't have a cable television subscription, you can first try to watch Cooper's interview with Yates by streaming live on CNN Go. If that's not working for you, you can head over and start streaming on PlayStation Vue, which offers a free five-day trial for new users — all you need to do is create an account and begin your trial period. This will let you stream CNN live for a few days.
If you are willing to pay a small amount, you can also view CNN on Sling TV which starts at $20 per month. The package includes Anderson Cooper 360, State of the Union, The Situation Room With Wolf Blitzer, and CNN Tonight. But if you still don't want to pay a cent and watch Yates nonetheless, you can sign up for a free seven-day trial with Sling TV and enjoy the interview.
Yates' media appearance is anticipated by Americans all over the country, given the dramatic and sudden nature of her departure from her position. To put in it plainly, the White House's statement on Yates was particularly jarring wherein Yates was accused of "betrayal."
The statement from the White House on Yates read, "[Yates] has betrayed the Department of Justice by refusing to enforce a legal order designed to protect the citizens of the United States. This order was approved as to form and legality by the Department of Justice Office of Legal Counsel."
According to CNN, Cooper's interview with Yates will cover several grounds. Yates is expected to discuss the recent dismissal of former FBI Director James Comey and the Trump campaign's possible cooperation with Russia. In addition to this, Yates may also touch upon her rationale for refusing to comply with Trump's travel ban.
It goes without saying that this interview may as well be one of the year's most explosive and revelatory ones yet. What's even better is that you don't need cable TV to stream it.