Watch Shark Week Online & Catch All The Jaws-ome Action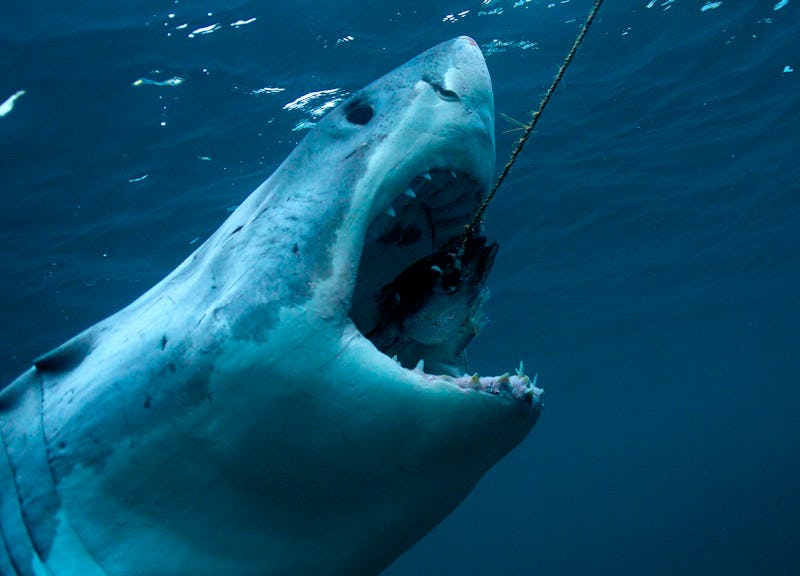 Copyright Discovery Communications, Inc.
Mysterious shark attacks off the coast of California! Michael Phelps racing a Great White! Chris Noth narrating an episode cheekily titled Sharks in the City: New York! Suffice it to say, the programming is definitely not to be missed this year — so, how can you stream Shark Week 2017?
Luckily, you've got a few options. The most simple might just be to pay a visit to the Discovery Channel website, which will have a live stream, as well as full episodes available to watch after the fact. Equally simple? Downloading the Discover Go app, which is free for iPhone and Android — all the Shark Week goodness will be available there for streaming as well. The only fly in the ointment is, those two options come with one caveat — you already have to have a cable subscription in order to watch (or at least, a friend who's willing to give you the login info from their cable provider).
There are also options like DirecTV Now, which are worth checking out, if you don't have cable — they can give you access to various stations, including the Discovery Channel. Now, it'll cost you a pretty penny, with rates starting at a not-insignificant $35 a month — but, that said, they do also offer a free seven-day trial subscription (which is, as we all know, the perfect amount of time to get through Shark Week).
PlayStation Vue is a similar subscription service that allows you to watch cable stations — rates start at $39.99 a month, but they also offer a free trial (though their's is only 5 days long, so you'll have to miss a couple of Shark Week days).
And, if you have Roku (a device for your TV which combines all your extra streaming services and Internet channels) you can watch Shark Week on all three of the channels above — so you can play things on the big screen from apps like Discovery Go or DirectTV Now. As a bonus, Roku streams a lot of other shark content — so you can keep sharks on your screen all week long. Here's some of what Roku is currently offering in the way (or wave) or shark content:
Shark Week Past Seasons – Discovery GO
Sharknado (2013) – Amazon, Netflix, Vudu, Fandango, Hulu
Jaws (1975) – Spectrum, Amazon, Vudu, Fandango, Starz
SHARK TV Channel
Shark Girl Documentary (2014) – Amazon, Vudu
Shark Land (2015) – Fullscreen, TubiTV
That's pretty much it, as far as live streaming options go, but places like Amazon and iTunes also have your back — so long as you don't mind waiting until after the fact to watch. Amazon has a cool deal for the occasion — you can either buy the episodes individually, or buy a TV Season Pass for Shark Week 2017, and get the whole thing as a package deal for a cool $24.99. You'll have to wait until the next day to watch, but it's pretty convenient — that way, you'll get to watch all of your favorite deep sea programming at your own speed. iTunes has a similar deal — you can purchase the episodes solo, or the entire season, starting at $22.99.
So, there are your options — Discovery.com, Discovery Go, DirecTV Now, PlayStation Vue, Roku, Amazon, and iTunes. Will you be tuning in this year? Honestly, it should be worth it just to see if Chris Noth pulls off Carrie Bradshaw-style puns in Sharks in the City: New York.