It's That Time Of Year Again — Here's How To Stream Shark Week 2018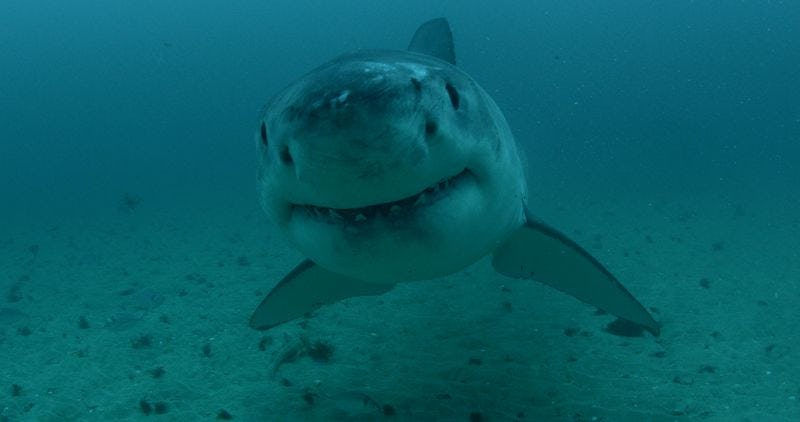 Discovery
It's that time of the year again: A riveting set of seven days in which the Discovery Channel issues its friendly reminder that sharks aren't just the subject of horror tales — they're actually super interesting creatures who deserve our attention. You're definitely going to want to know how to stream Shark Week 2018, because not having a cable-equipped television shouldn't mean you miss out on this deep blue sea programming.
Unfortunately, streaming Shark Week isn't quite as simple as just flipping on more common streaming services like Netflix or Hulu, but there are definitely options for anyone who doesn't already have a cable package and still wants to indulge in the underwater festivities. According to HowToWatch.com, there are a few different packages and trials that would allow you to pretty easily tune in for Shark Week's lineup. The streaming service Philo is listed as one of the site's top picks, as it includes tons of major channels (like Discovery) and involves a seven-day free trial before the $16/month bill kicks in.
DirecTV NOW and Playstation Vue are also options listed on the site for grabbing a cable package at around $35 to $40 per month, and both of those have free trials as well, so you could theoretically cancel after watching your favorite Shark Week shows and still not be out any money.
Of course, if you have a cable subscription and are just away from your actual cable box, you can sign into the Discovery Channel's official website using your subscription information and stream the channel live. And if that's still not enough content, what airs on TV isn't all Shark Week has to offer. There's also a cute miniseries on Discovery Channel's YouTube page called The Daily Bite, where you can chow down on short video compilations and webisodes.
With all of these options, there's really no excuse for having to miss the lineup, and boy, is it an interesting one. Shark Week has a history of unique shows in its long run, but this one is particularly star-studded and intriguing. According to a press release from the Discovery Channel, the whole week starts off at 7 p.m. EST on July 22 with Alien Sharks: Greatest Hits, focusing on the weirdest sharks the planet has to offer. Then, the grand finale at 9 p.m. on July 29 is Naked and Afraid of Sharks. That mash-up takes five Naked and Afraid veterans, places them on an island amidst incredibly shark-infested waters, and then sits back to see how well they'll survive, the release continued.
In between those two bookends is a whole week of everything from a Shark Tank spin-off, SharkCam episodes investigating the daily lives of some of the most famous deep sea creatures, and docs on shark researches hoping to help sustain the animal's populations. There's also a handful of celebrity-helmed programs like Guy Fieri's Feeding Frenzy, which focuses on local Bahamian cuisine, Shaq Does Shark Week, which aims to help the athlete overcome his fear of sharks, and Ronda Rousey Uncaged, in which the UFC fighter will apparently put her fighting skills to the test.
Shark Week is a time-honored tradition that's about to embark on its 30th year. For this landmark anniversary, it seems like the network has pulled out all the stops and loaded its lineup with an even wider variety of content, which is great for viewers who eagerly await the arrival of this summer staple all year long. With several streaming options available, hopefully everyone can get their hands on some oceanic entertainment, or at least find a cable-subscribing friend with room on their couch.