Everyone Who's Anyone Is Performing At The 2017 AMAs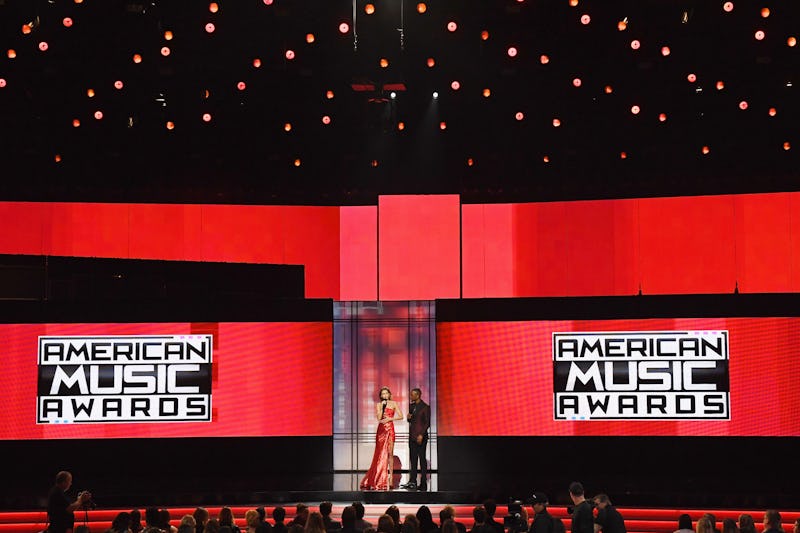 Kevin Winter/Getty Images Entertainment/Getty Images
Tons of music stars will be attending this year's American Music Awards, which premiere Sunday, Nov. 19 at 8 p.m. ET. The red carpet will be star-studded, the performances (likely) top-notch, the jokes probably cringeworthy (but that's what award shows are for, right?). But since millennials are apparently killing cable (along with literally everything else, it seems) chances are you might be looking to learn how to stream the 2017 American Music Awards.
Luckily, you will be able to stream the awards live on ABC.com, but there's a small catch— you need a cable provider login in order to access the streaming service. So now might be the time to beg someone on your Facebook feed to lend them your login if you don't have your own cable account. You can also watch the official pre-show and red carpet live on Twitter at 6 p.m. ET, because this is 2017.
And, you may definitely want to make plans to tune in, because this year has a lot in store. For starters, there's the fact that this year's AMAs will be a Ross family affair. According to People, black-ish star Tracee Ellis Ross will be hosting the show, while her mother, the legendary Diana Ross, will be performing and receiving the Lifetime Achievement Award. "She's a bit of an international treasure in my opinion," Ellis Ross said of her mother to People. "I'm excited that a younger generation gets to witness that, even just through the television screen. Also I think it's a really extraordinary thing to honor somebody who's had such an everlasting career, whose music has touched lives in such a poignant and special way. Music reaches into your heart, and my mom's voice has been a part of people's lives for a long time." Audiences are definitely in for a treat, especially if they've never seen Diana Ross perform.
But the legend isn't the only big star who will be gracing the AMAs stage on Sunday. Pink and Kelly Clarkson will be opening the show together, marking the first ever collaboration between these two pop superstars. And Christina Aguilera will lend her incredible voice to a Whitney Houston tribute, which falls on the 25th anniversary of the release of Houston's movie The Bodyguard, according to People.
But perhaps one of the most anticipated performances will be coming from Selena Gomez. The pop star is set to perform her new song "Wolves" on the AMAs stage, marking her first live performance in a year, and the first she's been onstage since undergoing kidney transplant surgery. The former Disney channel star posted an emotional Instagram video of her preparation for the performance, captioning it "My first performance in over a year... the AMAs have been a place where I've shared some of my most intimate moments. Heart wants what it wants, after treatment and now Wolves. This Sunday"
Along with Gomez, Ross, Clarkson and Pink, Niall Horan, Imagine Dragons, Nick Jonas, Lady Gaga, Khalid, Demi Lovato, Shawn Mendes, and Portugal. The Man are also all set to hit the AMAs stage. Along with these solo acts, viewers can expect to see some exciting collaborations, from Alessia Cara and Zedd, who will perform "Stay," and Hailee Steinfeld, Alesso, watt and Florida Georgia Line, who will come together for their hit single "Let Me Go." It's almost too much starpower to handle.
Another highly anticipated performance will be provided by BTS. This seven-member Korean boy band is a K-Pop superstar act, and their highly engaged fans (called their ARMY) will be excited to see them tackle the legendary AMAs stage.
But wait, you might be asking yourself, what about Taylor Swift? After all, the pop superstar released her highly anticipated new album, Reputation, last week, and has been making the rounds of televised performances, from SNL to her emotional rendition of "New Year's Day" on The Tonight Show With Jimmy Fallon. It only seems natural that one of music's biggest stars would want to perform her new music on one of music's most revered stages. As of right now, though, T. Swift has still not been announced as a performer. But, that doesn't mean there's no chance that you'll be seeing her on Sunday night. I wouldn't be shocked if the "...Ready For It?" singer and the AMAs producers had arranged for her to make a surprise performance.
And her fans are questioning whether she might turn up:
But whether or not T. Swift will be making a surprise appearance, Sunday's show is sure to be unmissable. So time to call your grandma, see how she's doing, and ask if she could lend you that cable login.