Here's What You'll Miss If You Don't Watch The CMAs Tonight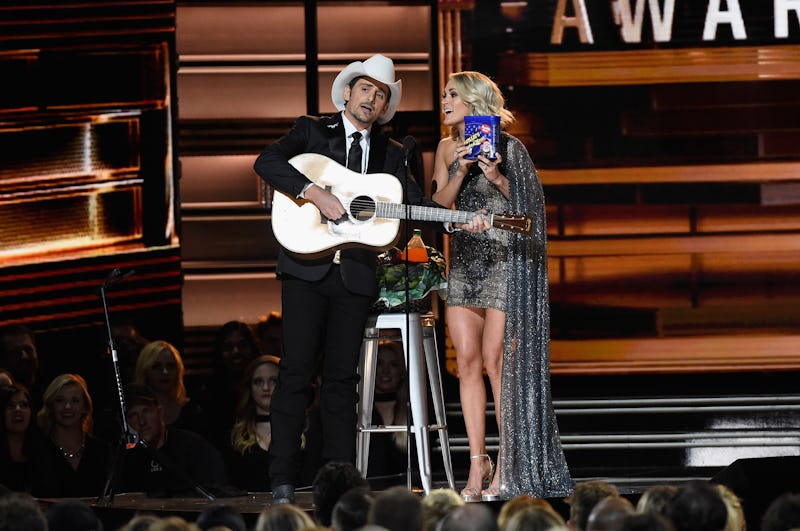 Gustavo Caballero/Getty Images Entertainment/Getty Images
The biggest night in country is almost here — Carrie Underwood and Brad Paisley are all set to host the 2017 CMAs, live from Nashville's Bridgestone Arena on Nov. 8. All of country music's brightest stars will be there, so any country fan worth his or her boots will be tuning in. But, if you don't have a television and you still want to watch, don't fret — you can stream the 2017 Country Music Awards from the comfort of your own home (or, you know, wherever you want to watch them).
And, if you're a fan of the two long running CMAs hosts, you'll definitely want to tune in. Underwood and Paisley are back for their 10th year as hosts — the only person who has hosted the show more times is singer Vince Gill, and he did so from 1992 to 2003. According to Billboard, Paisley has 14 CMA trophies (including Entertainer of the Year) and Underwood has six, so they are both well-equipped to keep this CMA show trucking along. "Every year we have figured something else out that would make it better for the next year, so I think we've been able to improve on our performance each year," Paisley told Billboard after his hosting duties were renewed. "But simply, just the fact that the CMA asked us again, I am very flattered and honored."
So, we have the hosts — who else is appearing on this shindig? People reports that performers will include Garth Brooks, Thomas Rhett, Miranda Lambert, Brothers Osborne, Luke Bryan, Little Big Town, and Alan Jackson, the latter of whom has performed at the CMAs 23 times before. The individual performers are exciting, sure, but it's the collaborations that are what Twitter will likely be talking about. Reba McEntire will sing with Kelsea Ballerini; Dierks Bentley and Rascal Flatts will share a stage; and Brad Paisley and Kane Brown will croon together. Most exciting for pop fans (probably) is the collaboration between Maren Morris and former One Direction star Niall Horan — he's making his CMA debut with a performance of their song "Seeing Blind."
If you want to watch, you're unfortunately going to need cable subscription login info (but you can probably borrow from a friend, right?). Abc.go.com will be streaming the show live on their website, but only in the following markets: Chicago, Fresno, Houston, Los Angeles, New York City, Philadelphia, Raleigh-Durham, and San Francisco. To watch here, you'll still need a cable login — or you could just invite yourself over to a friend's house that has cable. Bring a pizza or something, though, because it's rude to show up empty-handed. If neither of these are an option, you can still watch singer Cam host the 2017 CMAs red carpet at TasteOfCountry.com starting at 6 p.m. ET on Nov. 8.
Besides their country-tinged skits (who could forget "Mamas, Don't Let Your Babies Grow Up to Be Kanye"), Underwood and Paisley are known for their many outfit changes during the show — Underwood changed 10 times during the 2016 show, according to People. "When we get the running order of the show, we're like, 'OK these are complicated so we're gonna need more time,' so we try to just plan where things that might need a little more time get a little more time,'" Underwood told People. "And there are easy changes, like, 'Oh, we have five minutes, that's a lifetime in TV-quick-change world. We make the time count." Per People, her shortest backstage change was 40 seconds at the 2012 CMAs, so let's hope for Underwood's sake that she doesn't have to do that again.
Country's biggest night is fast approaching, so make sure that you're ready to go with snacks, drinks, and maybe your favorite cowboy boots — the 2017 CMAs will air on ABC on Nov. 8 at 8 p.m. ET. Whether you stream from your computer or phone, or watch it the old fashioned way, the show is sure to get people talking — and maybe singing and dancing along, too.