Don't Miss The 2017 SAG Awards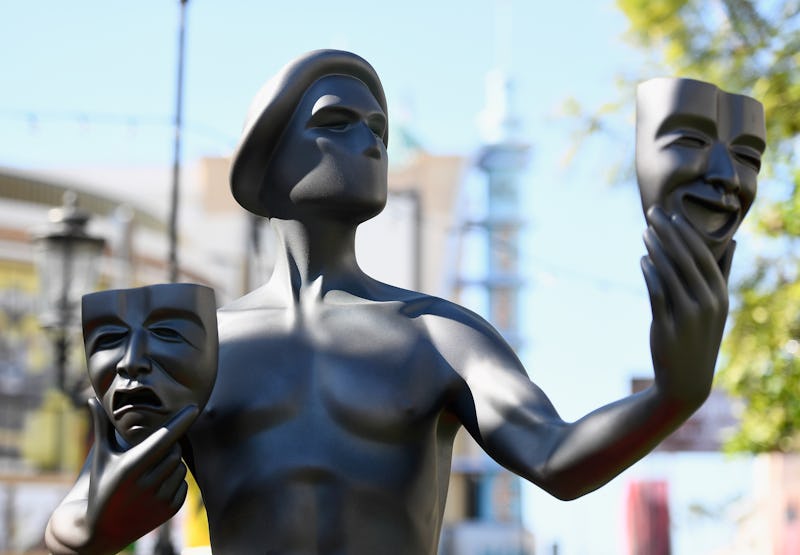 Kevork Djansezian/Getty Images Entertainment/Getty Images
Awards season is officially in full swing. The Golden Globes have come and gone, the Oscar nominations were just announced, and the 2017 Screen Actors Guild Awards air on Sunday, Jan. 29. Honestly, I'm exhausted just thinking about that many awards shows, so I can only imagine how the actual nominees feel. The SAG Awards are quite possibly the only awards show that come close to being as fun as the Golden Globes. There's no free-flowing champagne, but the mood is informal, and the votes (both for nominees and winners) come from actors themselves. Basically, you'll want to watch or stream the 2017 SAG Awards, because it's like the celebrity version of a fun night out with all your friends, celebrating your best work. Plus, it's the perfect precursor to the Oscars.
Here are the basics. The 23rd annual SAG Awards air Sunday, Jan. 29 at 8 p.m. ET/5 p.m. PT, on both TBS and TNT simultaneously. As usual, they'll be live from the Shrine Auditorium in Los Angeles. Can't wait til the actual ceremony? E!'s red carpet coverage begins at 6 p.m. ET. Of course, that's just the TV information. If you don't have one of those, you'll have to turn to streaming.
It turns out, streaming is easier for the red carpet than the actual show. People and Entertainment Weekly will be live-streaming their pre-show coverage on each of their websites starting at 5:30 p.m. ET. TBS' pre-show will stream on Refinery29's Facebook page starting at 6 p.m. ET.
Once the clock strikes 8 p.m., however, only TNT and TBS have the SAG Awards. Each network does have a live streaming option on its website and app, but you'll need to login with a cable subscription to watch. If you don't have one of those, you may want to plan on watching the show with a friend, or following along on Twitter once the awards start rolling.
In just two hours, 13 awards in both television and film will be given out at the SAG Awards, plus the Life Achievement Award. This year, Jane Fonda and Dolly Parton will present their 9 to 5 costar and comedian Lily Tomlin with the honor. And that might not be the only time you see Tomlin take the stage, as she's also nominated for Outstanding Performance by a Female Actor in a Comedy Series for Grace and Frankie, which also stars Fonda.
There are quite a few favorites nominated this year in other categories as well. Manchester By The Sea received four nominations, and Moonlight is closely behind with three. On the TV side, Game of Thrones and The People v. O.J. Simpson: American Crime Story are expected to have strong showings, with three nominations each. With so many frontrunners nominated and celebrities set to attend, whether you watch on TV or stream online, the 2017 SAG Awards are not to be missed.