How To Streamline Your Kitchen To Fit Your On-The-Go Lifestyle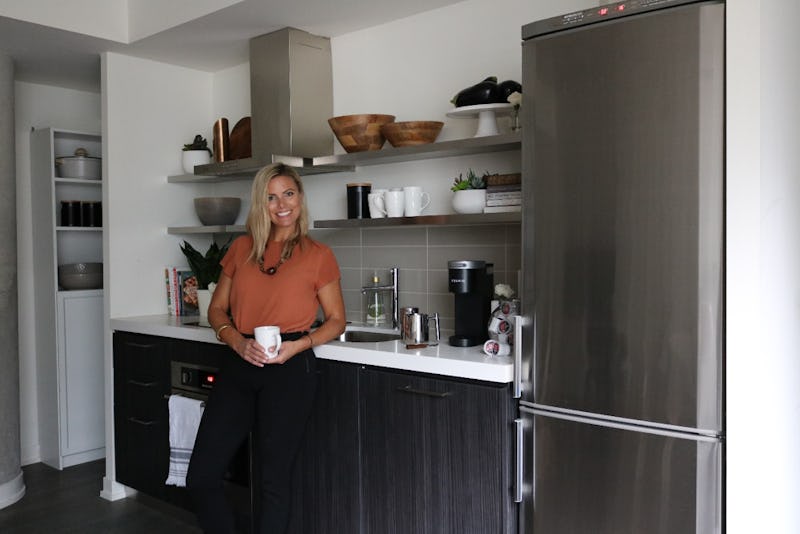 I have been decorating homes for as long as I can remember, but six years ago, I decided to turn my passion into a business! Karin Bennett Designs was born, and I've been busy with entrepreneurial life ever since. Running your own business takes a lot of hard work, determination, and discipline. When you try balancing that with running a household with three teenagers, two dogs, and a husband, life can get pretty hectic. Free time becomes a thing my younger self took for granted. Nowadays, my evenings are spent shuttling the kids to practice and cheering them on from the sidelines. We're also potty training our new puppy, and I have to confess, it's not going very well.
As a designer, I like to keep my process as harmonious and organic as possible. When I first interview a new client and lay eyes on the room I will be working with, I sit back and take in the attributes of the space. I like to get to know my client and try to get a feel for their personality before I get started. This helps create a unique look and feel when designing their home.
The client I recently worked with is an on-the-go entrepreneur named Sara who doesn't spend a lot of time at home. When she does cook, she prefers simplicity and is a big fan of meal services. Most of the time it's just her and her precious pooch Joey hanging out in her condo. Sara shared that she's looking for a way to keep organized and appreciates accessibility and convenience. Keeping that in mind, I thought of a key element around which to center her kitchen: the new Keurig® K-Mini™ coffee maker, which is perfect for her. It fits seamlessly in her small kitchen and her fast-paced lifestyle.
To streamline Sara's kitchen further, I focused on paying close attention to where my eyes were naturally drawn to. We decided to remove as much clutter as possible from the space, so we could have a blank slate to start with. A clean slate allows you to focus on the attributes you want to feature and not on the personal items in that space.
We absolutely adore the airy feeling of this kitchen. An open concept kitchen can be one of the trickiest kinds to decorate because everything is a focal point and there's much less flexibility for furniture and appliance placement. But here at Karin Bennett Designs, we love a challenge and knew just how to maximize this client's small space.
In this kitchen, I instantly fell in love with the muted gray-green backsplash and modern stainless steel open shelving. Once we created our blank canvas by decluttering the space, we turned our focus to styling like items together for a cohesive feel. We styled large bowls together and mugs on the lower shelf for easy access.
Many new condos are designed with concrete pillars that are a statement but can make the space feel cold. To combat this, we added wood elements to give texture and warmth to the otherwise modern space. This condo was designed for open concept living, so keeping the open shelves tidy while still being functional was key. We tidied the shelving system to the left of the kitchen, keeping more items in closed storage. This visually de-clusters the kitchen allowing your eyes to wander to the gorgeous cabinets and backsplash not the storage area.
Cleaning off the fridge helps limit visual clutter. I have a rule that if my clients decide to add something to their fridge (such as pictures, recipes, or calendar items) it can only live there for two weeks.
This kitchen has a cooktop and built-in oven contributing to the seamless feel of this compact space. Sara confessed that she rarely uses her microwave which we were thrilled to hear. We opted to completely remove it from the kitchen and place it in storage. This is a great way to free up critical space in a small kitchen! The client enthusiastically agreed that if she does not miss using the appliance, she will happily donate it to a local thrift store.
When designing a room in your home try adding a pop of color with items you already have, like beautiful cookbooks! By horizontally stacking your cookbooks on a floating shelf, it creates levels of interest and adds dimension to your kitchen. This is a great way to decorate with everyday items that are ready to use anytime.
An easy tip to consider when styling your own kitchen with open shelves is to always invest in new mugs, plates, and bowls in the same hue. This adds an intentional color scheme to your space that is serviceable for your everyday life. In our client's kitchen we successfully achieved this motif with classic white mugs. We love the way the crisp white pops against the muted gray-green backsplash.
This kitchen is visible from multiple angles in the home. With open concept living it's important to remember to keep the aesthetic consistent. When decorating, I like to choose pieces that will look attractive no matter where you are in the home. It seems simple, but a functional wooden bowl or cake stand is a really easy way to achieve this idea with open shelving. Instinctively you will probably want to fill your wooden bowls with fruit or vegetables and that always looks great! However, here at Karin Bennett Designs we like to think outside the box and when your bowl is being displayed higher up on floating shelves, you usually cannot see what is inside. We found this gorgeous white cake plate and were inspired to display something edible and delicious. The health nut in me thought why not pick out seasonal produce that balances well with the clean white walls and dark glossy cabinetry. While shopping at the local farmer's market I spotted these in-season eggplants. The deep purple subtly complements the neutral tones of the kitchen and works well with our neutral color scheme. Moving forward, they could seamlessly be replaced with seasonal acorn squash or ripe red delicious apples.
We love incorporating a touch of greenery into our kitchen designs to keep things lively and fresh. With the colder weather approaching, don't hesitate to bring your balcony or backyard plants inside your home to be enjoyed. Remember to change out some of your soil and watch for bugs when bringing outdoor plants inside. Plants don't need as much water as they did when outside in direct sunlight, so don't break the cardinal rule by overwatering your now indoor plants. I love incorporating variety with my houseplants by trading cuttings with friends. It downsizes my plants, making them condo sized, while also expanding my collection at no additional cost.
Another low maintenance idea for incorporating greenery is succulents! I love these lush little plants that seem to last forever! They look gorgeous in any room of your home and are right on trend for 2019. If you want absolutely zero maintenance, the faux ones are nearly impossible to tell from the live ones. You benefit from all the color and vibrancy without any responsibility.
Decorating is never just about my vision for a room. Meeting and getting to know my clients definitely influences how we approach the space. I want my clients to feel that their home is a reflection of themselves and their lifestyle. Remember small does not mean impractical. Consciously selecting well curatedaccessories will help balance your space and make your home feel beautiful and functional every time.
This article is sponsored by Keurig.