What To Say To Someone Who's Grieving A Death By Suicide, According To Experts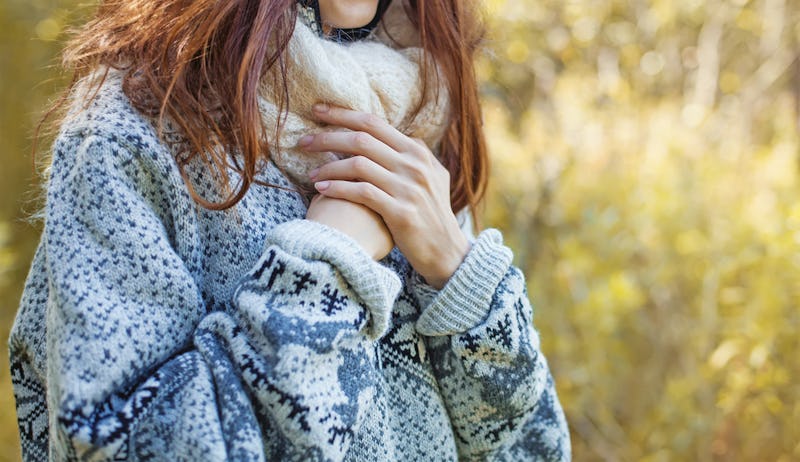 Mila Supinskaya Glashchenko/Shutterstock
For those who are grieving the death of a loved one by suicide, feelings of isolation, alienation, and guilt can be crippling. And just when they're needed most, friends can disappear because they're unsure what to say to someone who is grieving suicide loss. Dr. Christine Moutier, chief medical officer for the American Foundation for Suicide Prevention, tells Bustle that it's important not to avoid the loss survivor because you feel awkward.
"A person who's lost someone to suicide is often left in this vacuum. After the death and after the services, there's this sort of radio silence from their friends and family and community," she says. "It's sort of a really bizarre experience when you're going through this grief to not have your usual people coming around and supporting you."
When people do try to be helpful, it can often be overwhelming for the person who is grieving. If someone really wants to help, instead of saying something like, "let me know what I can do, or tell me if you need anything," Dr. Moutier advises that it's better to ask yes or no questions to take the responsibility off the person who is grieving and may have difficulty asking for help or expressing their needs. For example, you could say: "I want to bring you dinner on Tuesday, is that OK?"
She also suggests that those close to people who are grieving a death by suicide can educate themselves (which you can do on the AFSP website) about suicide. In fact, you can set aside a few minutes on Nov. 17, International Survivors of Suicide Loss Day, to learn the facts. "Taking those few minutes is going to help you understand that [suicide] is a complex health outcome, like many other causes of death."
People who don't take the time to learn about suicide might (incorrectly) assume that the person who died was "selfish" or "weak," which can lead to a lack of compassion for their death. "None of those things make sense when you really understand what drives suicide risk in general, according to the science," Dr. Moutier says.
Another thing that's important to know is that because people often feeling awkward discussing suicide, loss survivors may not feel they have space to talk openly about their loved ones. Sarah Ash, 22, who is featured in the trailer for this year's AFSP Survivor Day Documentary, lost her father to suicide. She tells Bustle that having the space to share how she was feeling was more healing than anything else.
"A supporter of a loss survivor should understand that the loss survivor does not need to 'be fixed' and that they are not broken," Ash tells Bustle. "It is okay to talk about the person that the survivor lost, and in most situations, the loss survivor wants to talk about the person that they lost. A loss survivor needs someone with an open ear to listen to them."
These are things a lot of loss survivors aren't given, and it's what I wished someone had done for me. When I was 18 and my brother was 16, two of his best friends, who spent more time at our house than they did at their own, died by suicide. Once the funerals were over, our parents pretty much never mentioned it again, which led us to believe that we shouldn't talk about it either. Experts say that survivors need to talk about how they're feeling in a safe, judgement-free space, which family and friends can provide.
"We hear from a lot of loss survivors that they never get to talk about who the person was in life because there's so much focus on the way the person died," Dr. Moutier says. "Allow the grieving person to talk about their loved one and who they were in life instead of just focusing on their method of death." Ash says that some of the most helpful things people said to her after her father's death were, "You will be able to change other people's lives because of your loss and your experiences," and "You must keep your dad a present part of your life and your milestones."
On the other hand, well-meaning people who don't take the time to educate themselves about suicide can actually do more harm than good. "Even someone else who has experienced a suicide loss cannot fully understand another person's suicide loss," Ash says. "Examples of things that people have said to me that have not been helpful, and that have actually been hurtful include: 'It's going to be OK,' 'Everything happens for a reason,' and 'He's in a better place now.'"
Dr. Moutier notes that some loss survivors are even framing the way they talk about suicide in a way that helps destigmatize mental illness, which in turn plays a role in suicide prevention. For example, an obituary might read that a person's depression led to their death. "That is a helpful way to frame it," Dr. Moutier says. "Just like we would say they died of cancer or heart disease, [it's important to] keep a health frame on suicide. It's a complex, but ultimately a health, outcome."
If you are a suicide loss survivor, and you want to attend an in-person or virtual event on International Survivors of Suicide Loss Day, you can find one near you on the AFSP website. If you have a friend, coworker, or loved one who has lost someone to suicide and you want to learn more about how to help, the National Suicide Prevention Lifeline and the AFSP both offer guidelines for how to best support loss survivors. You can start by saying something kind and caring like what someone said to Ash: "There is nothing I can say to fix the pain that you are feeling, but I will be here to listen whenever you are ready to talk."
If you or someone you know is experiencing suicidal thoughts, call the National Suicide Prevention Hotline at 1-800-273-8255 or text HOME to the Crisis Text Line at 741741. You can also reach out to the Trans Lifeline at 877-565-8860 or the Trevor Lifeline at 1-866-488-7386, or to your local suicide crisis center.