What You Can Do To Support Animal Shelters Taking In Strays During Hurricane Harvey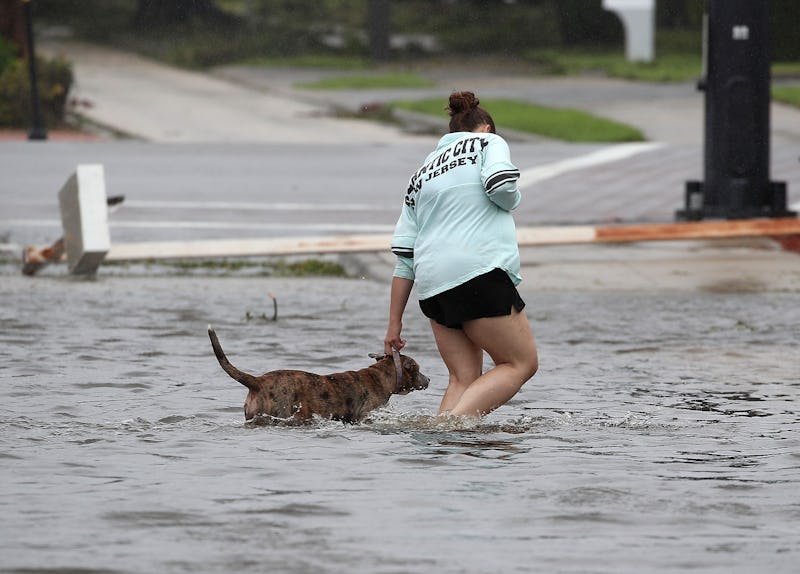 Mark Wilson/Getty Images News/Getty Images
Hurricane Harvey made landfall in Texas on Friday night, causing widespread damage to cities along the coastline. Many areas are already facing flooding, while others hunker down and wait for the hurricane to pass. As is often the case in massive natural disasters, pets and stray animals often fly under the radar amid the mayhem. So, if you're wondering how to support animal shelters during Hurricane Harvey, you're tapping into a huge need.
According to BuzzFeed, during Hurricane Katrina, as many as 250,000 dogs and cats were displaced during evacuations, and 150,000 pets died either during Katrina or in the hurricane's aftermath. In response to these numbers, less than a year after Katrina, the Pet Evacuation Transportation Standards (PETS) Act of 2006 was put into place. This law forces state and local governments to consider pets as part of their emergency evacuations, and also enables workers in the "the procurement, construction, leasing, or renovating of emergency shelter facilities and materials that will accommodate people with pets and service animals."
Even so, many animals end up abandoned or endangered due to the nature of these storms, as well as the tough decisions families face during evacuation. So, if you're feeling protective of the pups, here's how to support animal shelters during Hurricane Harvey.
Donate To The Humane Society
Several Humane Society locations along the Gulf Coast have been taking in extra animals and sending out animal rescue teams to save pets from the storm. On Friday alone, the Humane Society of North Texas received 22 animals that were evacuated from the Corpus Christi area.
"HSNT will always be there for animals in need. We are working with national and local animal welfare organizations to provide resources to help animals displaced by Hurricane Harvey," said Susan Gulig, executive director of the Humane Society of North Texas.
Any and all donations will help support rescue efforts and the care of affected animals.
Donate To Austin Pets Alive
The people at Austin Pets Alive! have been directly working with shelters in the line of Harvey to swiftly move pets to safety at the APA location. According to an update on the website, by Saturday morning they had transported over 230 animals to their shelter. The estimated costs of intake, shelter and food, for the extra animals tops $20,000, so any and all donations are needed.
Donate Pet Supplies
If you have useful pet necessities such as cat food, dog food, litter, crates, or other amenities you can donate pet supplies to Austin Pets Alive!, or view their Amazon Wishlist detailing pet goods needed in the aftermath of Hurricane Harvey.
Volunteer At A Pet Shelter
If you're currently safe and sound, but live in areas surrounding the Gulf Coast — animal shelters are in need of volunteers while they intake hundreds of pets from the storm. Currently, The Humane Society of North Texas, Austin Pets Alive! and The Animal Defense League of Texas could use some extra hands on deck.
So if you've got em, use them. Even if you don't live in an area near Harvey — volunteering to help animals is never a bad move.
Take In Any Stranded Cuties You Come Across
While this directive also technically applies more to people in the greater Texas and Louisiana area, you never know how far a little animal has traveled after the storm. If you have the time and means, keep an eye out for animals who might need a hand.
Adopt A Pet
If you, or a loved one live in the greater area of the storm and feel ready to open your home — there is currently a huge need for newly minted adoptive pet owners.
The Animal Defense League of Texas, The North Texas Humane Society and Austin Pets Alive! are all actively looking for people to take animals in.
Regardless of where you live, every cash donation, bag of cat food and signal boost makes a difference. And if you live in the Gulf Coast and have been toying with the idea of becoming a pet owner, this might just be the time to step up.