How To Donate To Anti-Racism Organizations In Charlottesville RN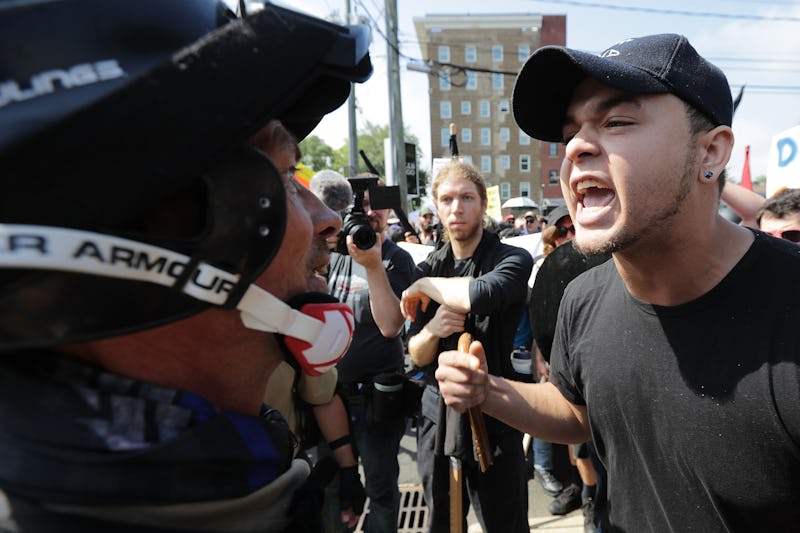 Chip Somodevilla/Getty Images News/Getty Images
After protestors and counter protestors clashed at a white supremacist rally in Charlottesville on Saturday, a GoFundMe campaign swiftly raised over $10,000 for medical expenses to help those injured when a car plowed into pedestrians. In addition to donating to crowdfunding websites supporting victims of the violent clashes, there are several ways to donate to anti-racism groups in Charlottesville if you want to help.
UPDATE: Two more people have died in a helicopter crash near the protest site, raising the death toll to three.
The GoFundMe campaign, started by Democratic Socialists of America member Michael Patterson of Anchorage, Ala., asked for donations for the injured, writing: "Comrades found themselves the victims of a Nazi terror attack today in Charlottesville, Va. Please donate what you can to pay for medical expenses. Sadly one person has died from the attack."
Virginia Governor Terry McAuliffe declared a state of emergency Saturday, and the New York Times reported that a spokeswoman for the University of Virginia Medical Center confirmed that a car plowed into a crowd near Charlottesville's downtown mall, killing at least one person and injuring at least 19 others after the rally was broken up.
Some argue that President Trump's perceived cavalier attitude toward racism, sexism, and homophobia has given hate groups unwritten permission to spout hate speech, and incite violence, which culminated in chaos Saturday after a protest in Charlottesville's Emancipation Park turned deadly.
The Times reported that "witnesses said a crowd of counter demonstrators, jubilant because the white nationalists had left, was moving up Fourth Street, near the mall, when a gray sports car came down the road and accelerated, mowing down several people and hurling at least two in the air."
If you want to show your support for anti-racism groups in Charlottesville, these groups need your support.
Black Lives Matter is a chapter-based national organization working for the validity of Black life. Donate to Black Lives Matter Charlottesville.
The ACLU has a chapter in Virginia that you can also donate to. Donate to the ACLU's Virginia branch here.
The Charlottesville Solidarity Legal Fund describes itself as an independent community resource that is available to all anti-racist activists in the ongoing struggle to confront and end white supremacy in Charlottesville. Donate to the Charlottesville Solidarity Legal Fund.
This local organization was set up in direct response to the Unite The Right rally. It asks supporters to pledge a certain amount of money to an organization of their choice — for example, ten cents apiece, donated to the NAACP — for each person who shows up to the Unite The Right rally. Donate to Beloved Community Charlottesville.
You can join the Albemarle-Charlottesville NAACP, where your membership dues will go toward funding help initiatives and programs to support the mission of securing racial equality and justice. You can also make a donation without becoming a member. Donate to the Albemarle-Charlottesville NAACP.
This organization provides legal guidance for low-income individuals throughout Virginia, and has been doing so since the '60s. You can donate to Legal Aid Justice here.
Charlottesville Pride Community Network strives to create a vibrant, visible, and inclusive LGBTQ community presence in Charlottesville, Albemarle, and the surrounding region that promotes equality through events, education, outreach, and advocacy. Donate to Charlottesville Pride Community Network.
Planned Parenthood fights to protect women's healthcare rights. You can direct a donation to Planned Parenthood South Atlantic, which serves Charlottesville. Donate to Planned Parenthood South Atlantic.
Charlottesville NOW works to bring women into full participation in American society now, exercising all privileges and responsibilities in equal partnership with men. Donate to Charlottesville NOW.
There are many ways to stand up to hate, and these are just a few. Here are organizations that fight the alt right specifically.
Editor's Note: This piece has been updated from its original version.