How You Can Show Support For California Firefighters Battling The Deadly Blazes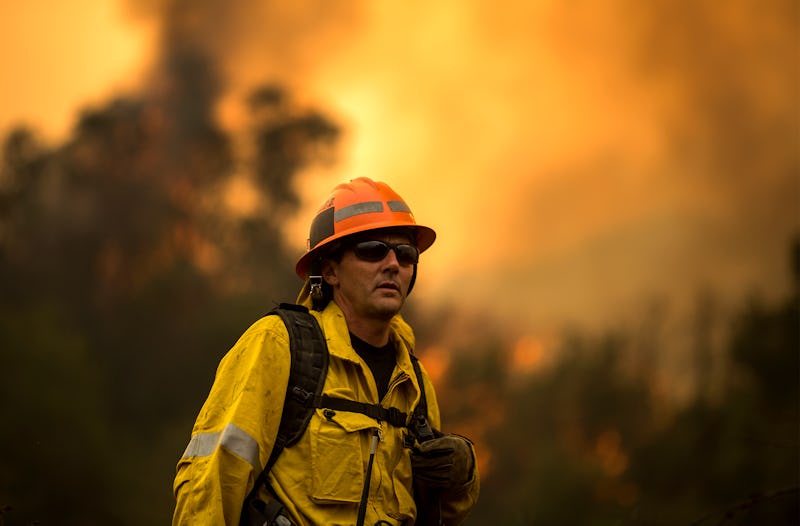 David McNew/Getty Images News/Getty Images
In the past several days, two wildfires in California have destroyed tens of thousands of acres of land, and have caused over 40 known fatalities. The Camp Fire in Northern California has become the deadliest fire in the state's history, and the Woolsey Fire has left thousands of people in the Los Angeles and Ventura areas without homes. And the scariest part is that the fires are still blazing. So you might want to know how to support California firefighters in the best way possible, as they continue to risk their lives battling these fires.
Of course, one of the easiest and most effective ways to support firefighters is to donate money to organizations that help fund and support firefighting resources in the area. From providing top-rate equipment to increasing the overall number of firefighters employed on a full-time basis, there are several organizations that exist exclusively to ensure that firefighters in California have what they need in order to do their jobs.
In the last few days, firefighters have been working shifts of 24 hours or more — and though they could certainly use donations of material objects like clothing and other supplies, donating cash might be the best thing you can do. Darren Dow, the vice president of Cal Fire Local 2881, the union that represents many of California's state firefighters, said to Time, "A lot of times cash donations are better because they can actually utilize those dollars for specific needs rather than taking away some manpower."
Here are some organizations you can donate to on behalf of California firefighters: