How To Support "Fight For $15" & Stand Up For Workers This Labor Day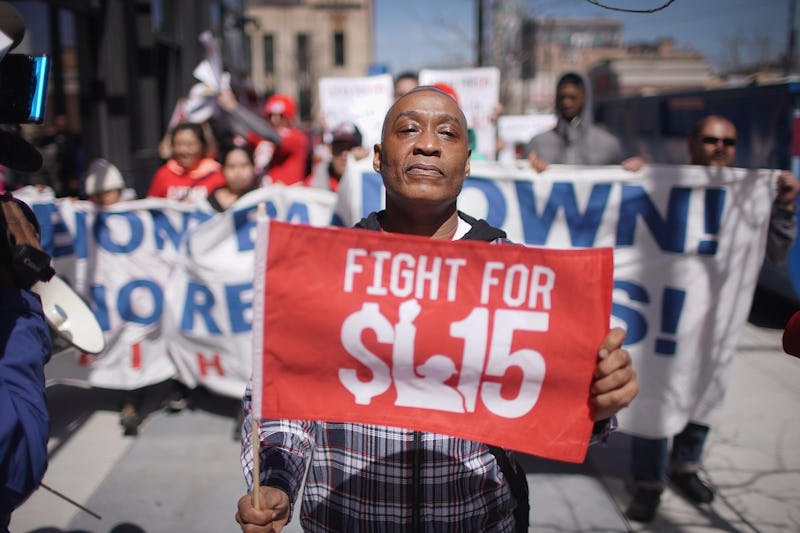 Scott Olson/Getty Images News/Getty Images
Labor Day is meant to honor workers for their contributions to society and recognize the importance of the American labor movement. However, this holiday also brings attention to the fact that more can be done to support American workers, including raising the minimum wage. This Labor Day, you can consider supporting the Fight for $15 movement if you want to make sure that employees around the country receive at least $15 an hour. If you'd like to stand in solidarity with this movement, there are several ways that you can contribute your time and talents.
As the movement describes on its website, Fight for $15 began several years ago when fast food workers in New York City went on strike to demand a wage of $15 an hour. Since that time, as the website notes, Fight for $15 has grown into a worldwide movement with a huge presence in the United States. For example, Fight for $15 advocates for the passage of the Raise the Wage Act, which would make the federal minimum wage $15 per hour, CNBC reported. Notably, the last time Congress raised the federal minimum wage was in 2007 — to its current rate of $7.25 per hour, Yahoo! Finance reported. In addition to its advocacy at the federal level, Fight for $15 has also helped secure the passage of various municipal and state laws guaranteeing employees at least $15 an hour — and continues to push for these laws in places where they have not yet passed, Fight for 15's website indicated.
Overall, as the movement describes online, Fight for $15 wants to help ensure that workers can actually support themselves with their income — and guaranteeing them at least $15 an hour is a solid place to start. If you want to help this movement gain even more momentum, consider following some of the tips below.