How To Support March For Our Lives, No Matter Where You Are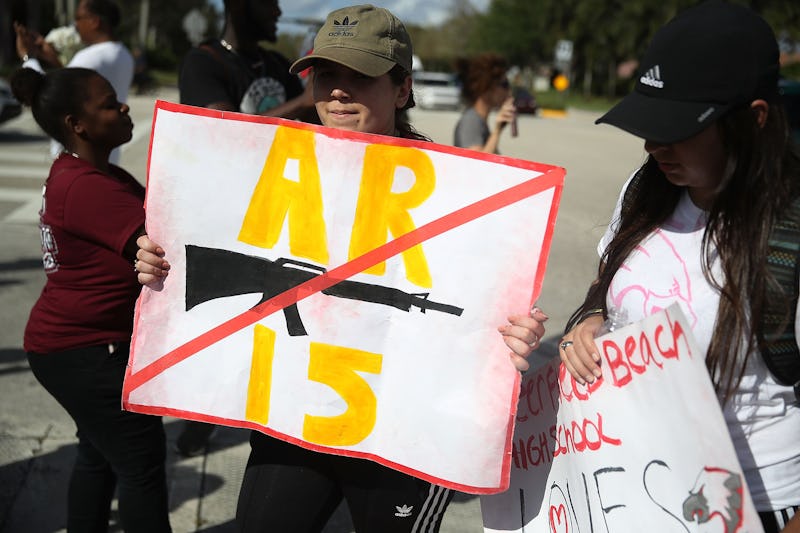 Joe Raedle/Getty Images News/Getty Images
President Trump's time in office has been marked by a slew of marches that protested his and his administration's actions: the Women's March, the March for Science, and now, on March 24, the March For Our Lives. It's the brainchild of several students at Marjory Stoneman Douglas High School whose lives were recently upended by a tragic mass shooting and who want to pressure legislators to enact meaningful gun reform. Luckily, you can support the March For Our Lives and stand up to gun violence even if you don't happen to live in Washington, D.C. or some other city where there's a march taking place.
First, you'll want to check March For Our Lives' Facebook page to see if a march has indeed sprung up in your area. There are already events organized for all major U.S. cities, as well as in several cities abroad, including London, Brussels, and Toronto. The students organizing the central March For Our Lives in Washington, D.C., which is expected to attract about 500,000 people, have launched an impressive PR campaign and drawn attention from across the country and around the world to boot. So, chances are you'll be able to find a March For Our Lives event near you.
If you've looked and there isn't an event accessible to you, however, you could always put one together yourself. You've got plenty of time to organize before March 24, and there are probably like-minded people in your hometown who would be willing to help you out.
Still, organizing a protest is no small feat. Not only do you have to market it, but you also have to make sure that you've got permits in order, take care of logistics like blocking off streets, and potentially buy some merchandise. If you want to support March For Our Lives but don't have the time to actually build a march in your area from the bottom up, there is another option for you. You can get involved by donating to the March For Our Lives organization.
You may have heard that George and Amal Clooney, Oprah, Gucci, and Steven Spielberg have all donated (or pledged to donate) $500,000 to March For Our Lives. But that doesn't mean you have to give the organization your life savings. Like most nonprofits, March For Our Lives would be thrilled to receive even five or ten dollars. If you want to donate while helping to get the word out beyond sharing the news on your social media feeds, you can always buy March For Our Lives merchandise as well. So far they're just selling T-shirts and sweatshirts bearing their logo, but the website says that soon you can expect hats, bumper stickers, and yard signs, too.
The best way that you can help support the march if you can't attend in person, though, is by supporting what it stands for: making schools safer by enacting gun control reforms. To make that happen, the country needs to get pro-gun control politicians into office. If you're old enough to register to vote but haven't done it yet, then register ASAP — and then challenge yourself to find five friends to register as well. Remember, midterm elections are coming this fall, and it's a huge opportunity to affect change not only in Washington, but also in states and cities and towns across the country.
If you're not old enough to vote but still want to stand up for your peers from Parkland, Florida, then you can call your elected officials at any level of government and ask them to pledge to support the movement to end gun violence. Most Americans support enhanced gun control, but in order for that kind of legislation to get passed, most elected officials need to get on board as well. That's March For Our Lives' endgame; and fortunately for everyone, you can contribute to the movement from wherever you happen to live.