How To Support The Student Climate Strike If You Believe In Their Message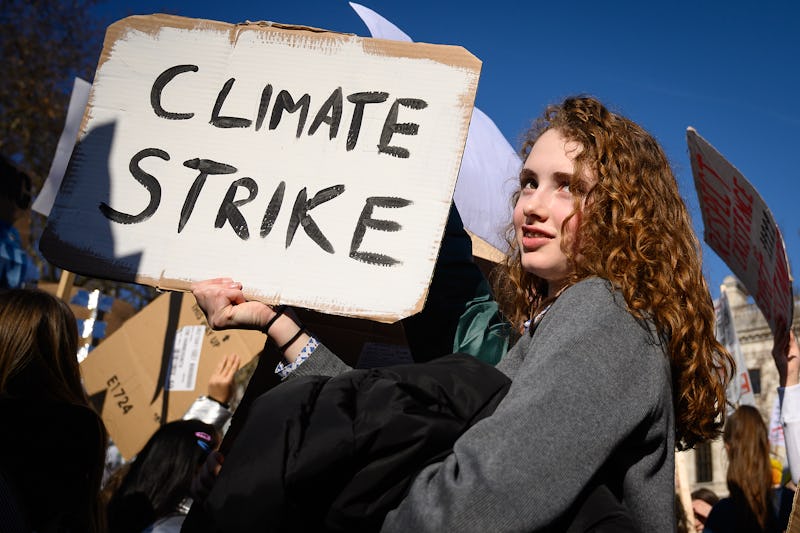 Leon Neal/Getty Images News/Getty Images
On Friday, thousands of children and young adults around the globe will skip school and march, in the name of raising awareness around the climate change crisis. The march might turn into one of the largest protests in environmental history, based upon the predicted turnout numbers below. But for those who are no longer in school and want to know how to support the students' climate strike, the first thing you can do is learn what it's all about.
The upcoming march is a branch of the #FridaysforFuture movement, which started last year when 16-year-old Greta Thunberg, an activist in Sweden, started skipping school on Fridays to protest her country's inaction on climate change at the time, per CNN. Now, the movement is set to take place on every continent this Friday, according to Vox. Per CNN, students from over 90 countries and in more than 1,200 cities will be joining the protest.
In an open letter published on March 1 by The Guardian, an anonymous group of activists representing the movement shared the goals of their mission, writing in part:
We finally need to treat the climate crisis as a crisis. It is the biggest threat in human history and we will not accept the world's decision-makers' inaction that threatens our entire civilisation. We will not accept a life in fear and devastation. We have the right to live our dreams and hopes. Climate change is already happening. People did die, are dying and will die because of it, but we can and will stop this madness.
We, the young, have started to move. We are going to change the fate of humanity, whether you like it or not. United we will rise until we see climate justice. We demand the world's decision-makers take responsibility and solve this crisis.
Here are some ways you can contribute to their cause: