11 Ways To Support Trans People In The Wake Of The Trump Administration's Memo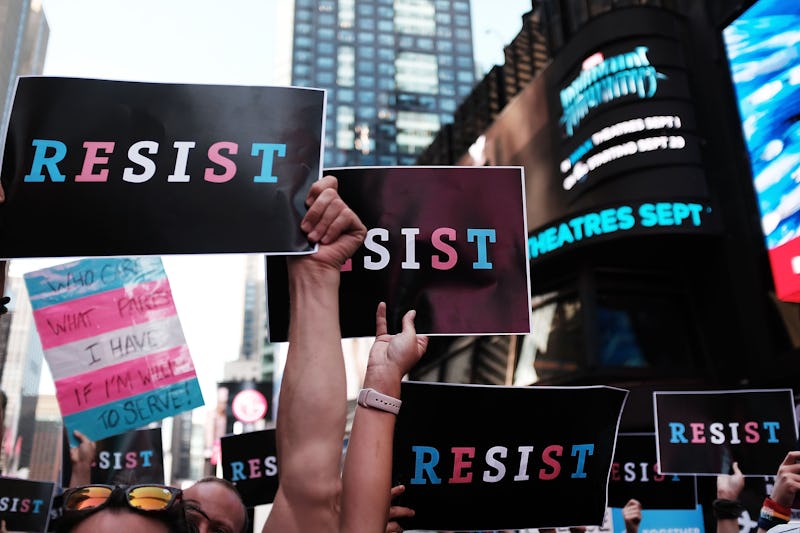 Spencer Platt/Getty Images News/Getty Images
On Oct. 21, The New York Times published a report detailing a memo from the Trump administration that said the Department of Health and Human Services is considering new Title IX guidelines that would essentially erase federal recognition of transgender and nonbinary gender identities. According to The New York Times, the Trump administration is planning to redefine biological sex under Title IX, stating that "the sex listed on a person's birth certificate, as originally issued, shall constitute definitive proof of a person's sex unless rebutted by reliable genetic evidence."
"The false and oppressive equating of sex assigned at birth to gender fundamentally undermines the purpose of Title IX," Jess Davidson, End Rape on Campus Interim Executive Director, said in a statement emailed to Bustle. "Erasing an entire group of people from Title IX implementation is a clear attack on their civil rights."
Trans folks in this country shouldn't constantly have to defend their right to exist, but this administration's actions give the LGBTQ community and its allies little choice. "Every time this administration gets the opportunity they attack the most vulnerable people in our community and we're not going to take it anymore," Tanya Walker of the New York Transgender Advocacy Group said at a NYC rally in opposition of the memo, according to a statement from activist group Voices4. There are a lot of ways, however, that you can support transgender people in the wake of the Trump administration's memo.
Here are just 11 actionable ways you can support the transgender community today: