How To Discuss Trump's "Go Back" Tweets With Someone Who Doesn't Think They're Racist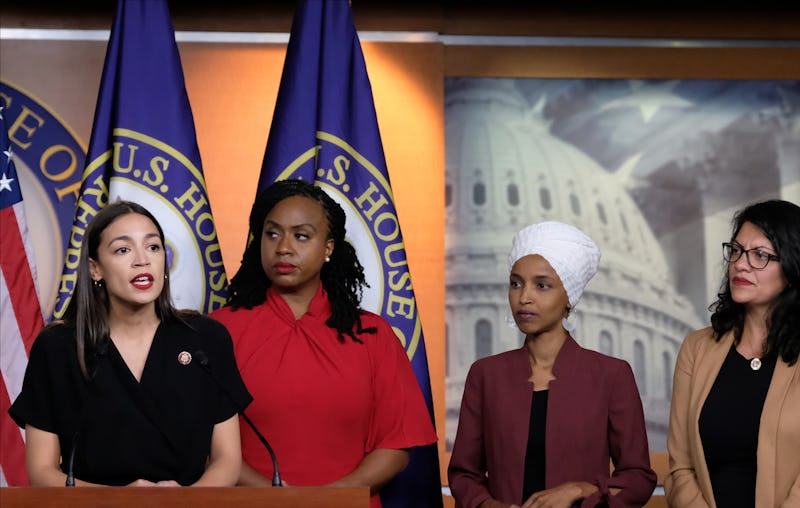 Alex Wroblewski/Getty Images News/Getty Images
On Tuesday, the House of Representatives voted to condemn a series of Trump's tweets as racist after he suggested certain Democratic congresswomen should "go back" to the countries their families immigrated from. Over 180 Republican representatives voted against the resolution, according to CNN, and surely they aren't the only Americans who continue to defend Trump's judgment. If you're discussing current events with someone who doesn't think Trump's "go back" comments were racist, there are several key ways to approach the issue, according to counseling and rhetoric experts.
President Trump initially wrote the aforementioned tweets on Sunday, suggesting that "'Progressive' Democrat Congresswomen" should " ... go back and help fix the totally broken and crime infested places from which they came." As The Guardian reported, while Trump did not name them specifically, the president's comments were directed at Congresswomen Alexandria Ocasio-Cortez, Ayanna Pressley, Rashida Tlaib, and Ilhan Omar. All four are women of color, three of whom were born in the United States. Representative Omar is a naturalized U.S. citizen, the outlet added.
The president's comments sparked widespread outrage. Ibram Kendi, a professor and director of the Antiracist Research and Policy Center at American University, explained to CBS This Morning that telling people of color to "go back where they came from" is rooted in racist rhetoric dating all the way back to the 1800s. "In the 19th century, there were many, many reformers, racial reformers who thought the way to solve the race problem, the Negro problem, was to essentially send back all free blacks [to Africa]," Kendi said to the outlet. He explained that Trump's tweets also suggest the United States is only a place for white people. "So where would they go back to?" Kendi asked. "But people of color, it's assumed that this is not their country."
However, not everyone agrees that Trump's tweets were racist and have continued supporting the president. On Sunday, Trump himself tweeted, "Those Tweets were NOT Racist. I don't have a Racist bone in my body! ..." Moreover, Reuters reported on July 17 that a new Reuters/Ipsos public opinion poll revealed that support for Trump among Republicans has actually increased — by five percentage points — since the president shared his tweets.
If you ever find yourself chatting with someone who clings to that perception, these expert tips should help guide your conversation, so that you can express your own opinion: