This Is How To Talk To Your Friends About Their Mental Health Even When It's Awkward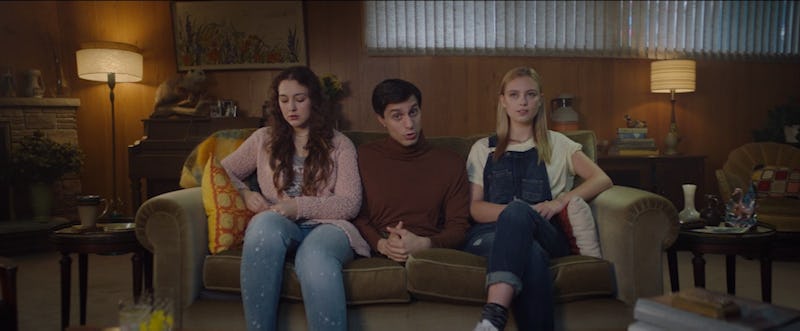 Seize the Awkward
Real talk: Asking a friend if everything is all G is probably always going to be awkward. Thanks to ingrained stigma, plus the general discomfort of asking other people personal questions, having conversations about mental health with friends can be pretty uncomfortable. But a new, ongoing campaign from the Ad Council, called Seize the Awkward, aims to show people that making sure we're supporting and connecting with each other is more than worth dealing with those awkward moments.
Christine Moutier, Chief Medical Officer of the American Foundation for Suicide Prevention (AFSP), tells Bustle that Seize the Awkward is about giving younger generations actionable strategies to be "more authentic and vulnerable in their relationships." She adds that AFSP research has shown that teens and young adults have strikingly positive attitudes about traditionally stigmatized mental health topics, but also don't know how to engage "if [they] notice that a friend is struggling and just not behaving in their typical fashion." Seize the Awkward, she says, is about creating "a new dialogue [...] around the fact that it's OK to just [...] dive in and ask" how your friend is doing, no matter how awkward it might seem.
YouTubers like Hannah Hart, Liza Koshy, Mark Fischbach (known on YouTube as Markiplier), Meredith Foster, Orion Carloto, Remi Cruz, Shannon Beveridge, Tyler Oakley, and actor Tyler Posey are lending their talents to the campaign, which is produced by the Ad Council in conjunction with the AFSP, The Jed Foundation (JED), and Droga5.
Hart, who founded a peer counseling group when she was in high school and has been open about her own experiences with mental illness, tells Bustle that Seize the Awkward "is simultaneously about approaching [mental health] with humor [and] with honesty."
Hart says, "It's difficult to talk about difficult circumstances with friends because they have no idea how to respond. They're like, 'Whoa, that sucks,' and you're like, 'Uh... yeah... sucks, I guess.' We're not given any of the tools about how to reach out to a friend and be like, 'Hey dude, I noticed you haven't showered in like three weeks.'"
Fischbach tells Bustle that it can be much harder to talk about hard or heavy issues with strangers, an assertion that's backed up by data from the American College Health Association Survey, which found that only half of people who seriously consider suicide disclose it to anyone, and two-thirds of those who do disclose only tell a friend. "Friends know when friends are a little off, and it's totally fine to be able to talk to someone you know," Fischbach says. "If you just reach out to someone because you do know each other and you do care about each other, it's always important to try to get past that awkward moment, to reach across the border and try to see if your friend is willing to talk."
Even if the person isn't ready to talk, showing them you're ready to listen is what matters, Fischbach tells Bustle. "It's important not to [...] try to force them to talk if they're not ready to talk. If someone's not ready, that's fine, and if someone wants to talk, that's fine too," he explains. "The important thing is just to open the dialogue."
Moutier says Seize the Awkward is filling in the gaps where traditional education leaves off. "Everyone grows up with certain messages around safety, around drunk driving, smoking, lots of public health topics are widely known. But [with suicide prevention], the knowledge level isn't out there because we haven't built that in our society." She adds that it's normal to experience fears like "Is asking my friend if they're OK weird or insulting?" and "I'm not a therapist, so I can't actually help them."
"It's not rocket science," Moutier says. "You don't have to be any of those things. You just have to be a caring friend."
Aside from offering videos, including personal stories from campaign talent like Koshy, Posey, and Hart, Seize the Awkward's home site has practical guides like signs to watch out for, conversation starters, and tips for what to do after you take the plunge and have an awkward chat. It also has crisis and emergency information, because though Seize the Awkward is about encouraging peer-to-peer support, it's also about friends helping friends get the professional mental health help they need, Moutier says.
With suicide rates rising across all age groups over the past 20 years, according to Moutier, and the AFSP aiming to reduce that annual rate 20 percent by 2025, a campaign like Seize the Awkward is vital because it empowers folks to reach out to one another. Despite attitudes about mental health trending toward positivity and openness, talking about it still isn't easy. Doing so is almost guaranteed to be uncomfortable. But, as Hart points out, "At the end of the day, it can really save a life."