How To Talk To Your Doctor About Heart Health Without Getting Body-Shamed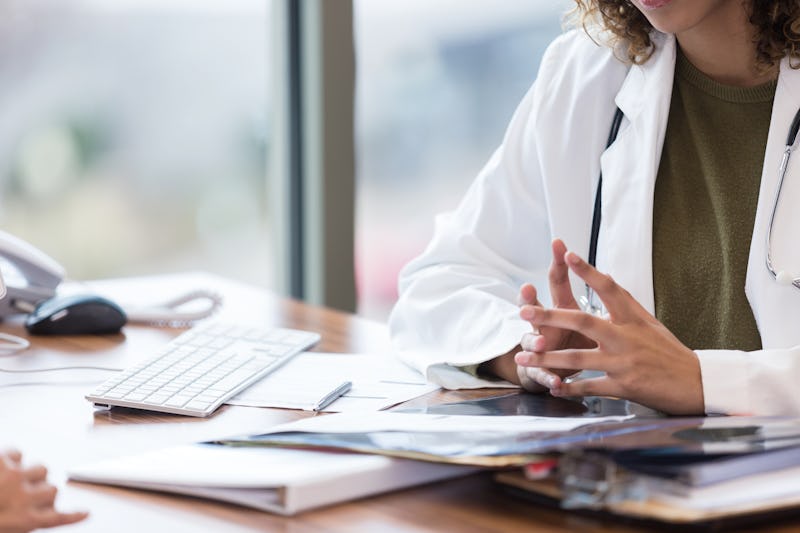 SDI Productions/E+/Getty Images
Heart health is something many people don't think about until it's too late — unless they already know their risks. But too many people with concerns about their heart health go to the doctor, only to get pressured to lose weight before their health-care professional will talk about any other treatment.
"Body shaming in the healthcare profession is unfortunately common and even impacts whether people choose to seek medical care for problems they are having," Stephanie Byer, a registered mental health counselor, tells Bustle.
Evidence shows that being body-shamed by your doctor can actually worsen your cardiovascular health. A study in 2017 published in Obesity found that women who'd been fat-shamed were at more risk of high blood pressure. Studies have also shown that patients have better experiences and more effective care when their doctors don't judge or shame them about their weight.
Weight doesn't mean you're automatically at higher risk of heart issues. Research has found that there's often a correlation between a higher body mass and higher blood pressure, but not in all people. A 2013 study published in Science also found that body mass index (BMI) is a particularly bad measure for measuring a person's risk for cardiovascular disease, which makes sense when you realize it's just a ratio of weight to height. Being underweight is also associated with a heightened risk of heart problems and high blood pressure. Heart health is complex, but everybody has the right to feel respected by their doctor when they're talking about it.
Here are the best ways to talk to your medical professional about your heart health — without getting body-shamed.