7 Expert Tips For Talking To Your Partner About Your Mental Health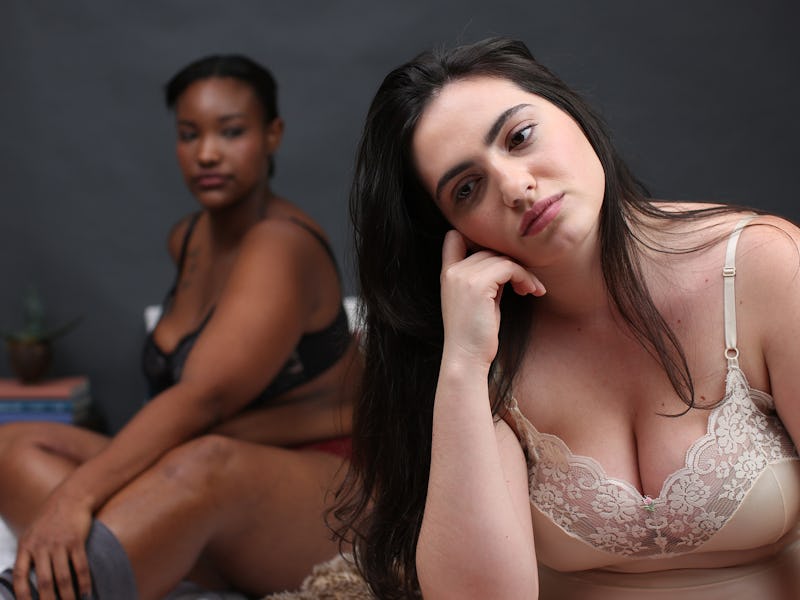 Ashley Batz for Bustle
I've always identified as a "worrywart", but never considered myself to be someone who struggled with anxiety. Then a few months ago, I experienced my first panic attack. Unable to breathe or control my physical reaction, my partner's guidance and support was invaluable. He talked me through breathing techniques that allowed me to slowly calm my mind and bring clarity to my thoughts. I was so grateful for his patience, and acceptance. I still am.
Unfortunately, talking to your partner about your mental health isn't always so simple. According to a 2017 report by the National Alliance on Mental Illness, approximately one in five adults in the U.S. experience mental illness each year, but only 41 percent of them actually reach out for help.
I was raised in an environment where mental health was seen as a taboo subject. Upon leaving home, I began educating myself on a variety of mental health issues, and made it my mission to normalize it's discussion within my circle. Overtime, my partner and I have been able to developed an honest dialogue about mental health. We have addressed everything from anxiety to depression, and have learned so much from each other's experiences. Our talks have been an incredibly enlightening outlet for me, after growing up in a household that felt somewhat secluded.
If you're dealing with a mental health issue, you're definitely not alone. But it can be hard to talk about it with a partner, especially if it's something you're not used to talking about. Below are some useful tips for opening up to your partner about your mental health — because sometimes, the first step can feel like half the battle.