Here's How You Can Tell Congress To Take Gun Laws Seriously After The Florida Shooting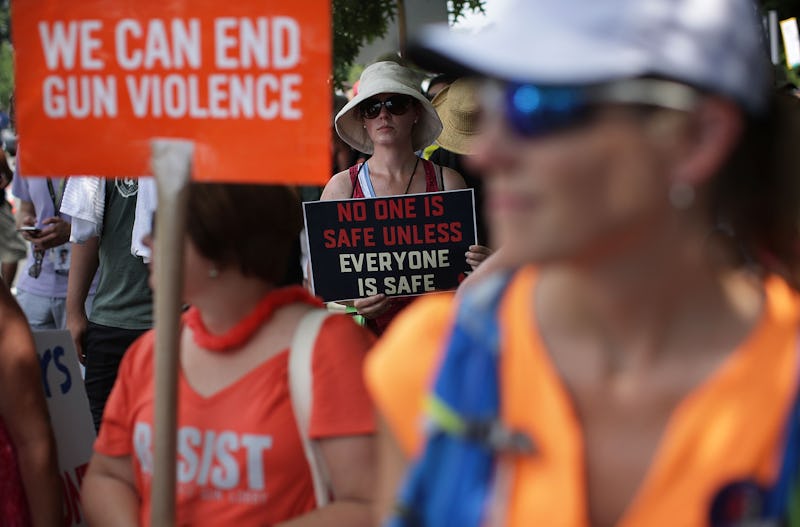 Alex Wong/Getty Images News/Getty Images
Seventeen people were killed Wednesday in what gun control advocacy groups say is the 18th school shooting so far this year. At least 65 school shootings were reported in 2017, and as the years go by, gun violence can begin to feel a bit too commonplace. And yet with each new mass shooting, too many lawmakers and politicians to count respond with thoughts and prayers, while no one succeeds in taking legislative action. For those of you looking to advocate for gun control, here's how to contact Congress and say that enough is enough.
"As our legislators and leaders, they shouldn't be offering prayers and words, because those mean nothing," Lyliah Skinner, a student at Marjory Stoneman Douglas High School in Parkland, Florida, told CNN in reference to politicians' condolences after the violence. "We need action, because action is going to change what's happening."
A great first step for anyone looking to begin advocating for gun control, or any other cause, is to educate yourself. Take an hour, or better yet a day, to read up on a few facts about gun violence as well as some answers to frequently asked questions about the issue. It's never a bad idea to be well-informed about such a sensitive subject.
When you feel you're ready to discuss gun control with your representatives in Congress, start by locating their contact information. You can locate your senators' contact information using the Senate directory here. Use your zip code to find out who your representative is on this site, then locate that lawmaker's contact information via this directory.
While there's more than one way to contact your representative, Emily Ellsworth, a former staffer for Utah Reps. Jason Chaffetz and Chris Stewart, has noted that certain methods of communication are better than others when it comes to getting lawmakers' attention. Ellsworth cautions against relying on social media, email, or snail mail to make your voice heard. According to Ellsworth, emails and letters arrive by the hundreds in congressional offices and are often sorted and responded to with topic-centered form letters. Twitter mentions may go unread altogether, she adds.
However, picking up the phone and dialing your representative's district office (that's the office or offices they run in your state, as opposed to the office they keep in Washington, D.C.) is reportedly one of the best ways to ensure that your concerns and opinions are heard by a staffer for your representatives.
If you think you'll be at a loss for what to say once you get somebody on the phone, there are resources available to you. Consider looking to gun control advocacy groups like Giffords and Everytown for Gun Safety, which offer sample scripts for talking to lawmakers about gun control. For example, Americans for Responsible Solutions provides the following script for people who want to urge Congress to vote "no" on the Concealed Carry Reciprocity Act:
Hi, my name is [Your Name] and I'm a constituent of [Representative Name] calling from [Your City/Town]. I'm calling about the gun lobby's attempts to push its dangerous agenda through Congress. This includes the Concealed Carry Reciprocity Act, a bill that would severely threaten public safety and put law enforcement at risk. In light of the recent mass shootings, we need [Representative Name] to find the courage to stand up to the gun lobby and do something to make our communities safer from gun violence.
Or, consider drawing inspiration from what Marjory Stoneman Douglas High School senior David Hogg. Hogg told CNN how urgent he felt the need for legislative action on gun control was after witnessing the carnage at his school. "Some of our policymakers need to look in the mirror and take some action because ideas are great but without action, ideas stay ideas and children die," Hogg said.
If you don't have a lot of time to spare, that's OK, too. You can use Resistbot to help you get your message to Congress in under two minutes. The service doesn't require an app, nor downloads of any kind. Simply text "RESIST" to Resistbot via Telegram, Messenger, or to 50409 on SMS (your carrier's standard messaging and data rates may apply) to get started. Resistbot will determine who your congressional representatives are, then ask you what you'd like to tell them. Text your message back, and Resistbot takes care of the rest.
Calling a member of Congress can be intimidating, but it can be an important and effective way of having your voice heard in government. And it's not as difficult or time consuming as you might think — so do a bit of research, jot down a few notes, take a deep breath, and pick up the phone.