4 Ways To Tell If Your Olive Oil Is Legit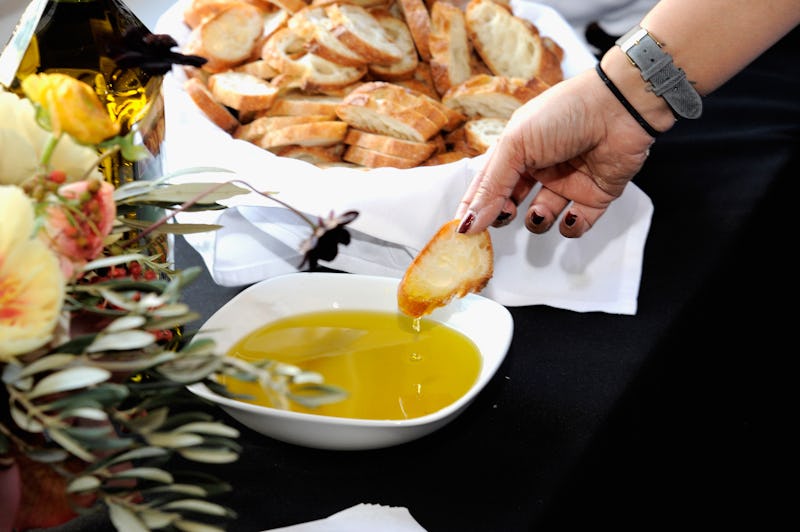 Matthew Eisman/Getty Images Entertainment/Getty Images
Olive oil is a big part of my diet. However, until I visited the Olive Oil Museum on Brač Island, Croatia, this past summer, I never gave much thought to whether or not my olive oil was real. I mean, why would anyone make fake olive oil? For reasons that range from poor olive harvests to plain old greed, fraudulent olive oil is apparently big business. In fact, it turns out that not all products labeled olive oil are actually olive oil. What's more, not all olive oil is fresh. This means you might be paying for a phony or spoiled product.
"Olive oil is often substituted with a lower cost alternative, whether it is regular olive oil instead of higher priced extra virgin olive oil or a less expensive variety from Greece or Turkey, instead of from Italy as the label claims," a 2014 Congressional Research Paper by Renée Johnson, a specialist in agricultural policy, reported.
"In some cases an alternate seed or nut oil may be sold as or thinned out with hazelnut, soybean, corn, peanut, sunflower, safflower, walnut, vegetable, canola, or palm oil, and in one case, lard. Some combinations contained no olive oil," the report stated. "The use of nut or legume oils could pose a problem for those with certain food allergies. In rare cases, non-food-grade oil may be added."
Even if your olive oil isn't fraudulent, some of the real olive oil you're eating may be rancid even though the bottle says it's still good to consume. This is what prompted Aishwarya Iyer to attend the UC Davis Olive Center to learn more about olive oil. She and her husband were both experiencing persistent stomach aches, which led them to pay more attention to what they were eating. They eventually identified rancid olive oil as the culprit.
"I cut out bread and cheese, then I cut out spices and I was trying to figure it out. The only constant I was left with was the olive oil. So then I started researching and I was like blown away by it," Iyer, who left a marketing career in New York City to start California-based olive oil producer Brightland, tells Bustle. She says there are a few hard-and-fast rules for determining if your olive oil is rancid, an imposter, or the real delicious deal.