Here's How To Time Your Meals For Better Digestion, According To Experts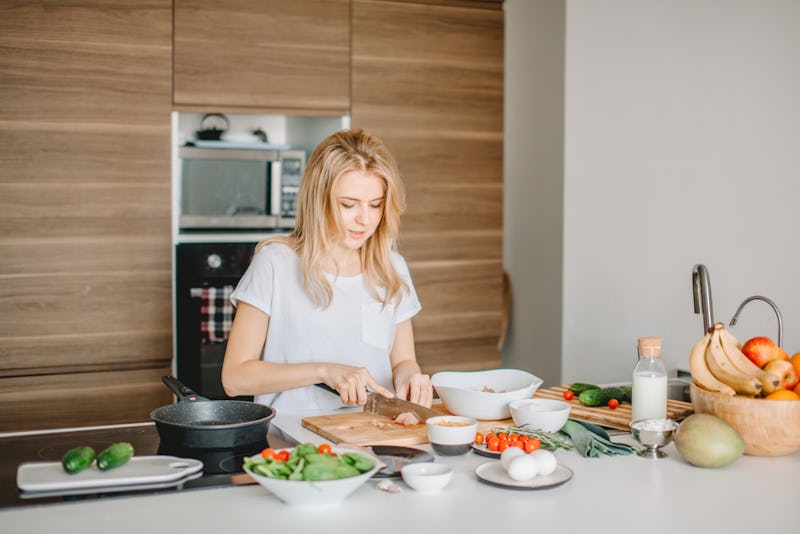 UfaBizPhoto/Shutterstock
Meal timings can be tricky: how can you squeeze in nutritious, satisfying meals when you're run off your feet, have to eat at your desk, or barely have time for breakfast? However, there's also an added feature of your daily eating schedule that should be considered: your digestion. Picking the right times to eat can help your digestive system reach its full potential — and reduce issues like bloating, gas and sleep disturbances, which can result from eating at inopportune moments.
As with anything related to nutrition, the most effective meal time isn't going to be the same for everyone. "Everyone is different," nutritionist and dietician Jo Travers, RD, tells Bustle. "Some people have extremely quick digestion and others are a bit slower; really the best thing to do is to experiment and see what suits you best." That means noticing how your body reacts: if you eat late at night, are you able to sleep well? If you eat a heavy morning meal and then pick at smaller plates later, do you feel full and energized?
"The key is to listen to your body, eat the foods provide a balance and find a structure that works for you," dietician Priya Tew tells Bustle. With that in mind, here are some of the best expert tips on when to eat to make sure your gut is flourishing.